Every garden looks better with a bird table. Not just for its ornamental value, but also to keep our garden birds fed year-round when other natural sources may be dwindling.
Have a look through the reviews of the best bird tables and feeding stations, here are 5 of each. These are my favourites of those currently available.
Then, sit back and relax and watch nature at its best, as you attract many different breeds of songbird to your garden, year after year.
Features of the Best Bird Tables
There are many considerations when choosing a new bird table, and if you're like me, they usually begin with cost.
Once you have set your budget, take a look at a few other pointers;
Assembly       
Some bird tables are delivered fully-assembled but if you're willing to screw some pieces together, you can get a table of equal quality for a reduced price. Read reviews to choose the bird tables with easy to follow instruction and fast build times.
Size and design 
Some tables are higher and wider than others and are more suited to larger spaces. A stable base with small entrances will attract garden birds, they will keep coming back once they know they are secure.
Which birds?  
If you have an issue with larger birds such as magpies and pigeons, some tables are designed in such a way to prevent them from getting on. This keeps the smaller birds safe and encourages them to keep returning.
Stability          
You should expect a good weight ratio between the house and the feet to prevent it from blowing over in high winds. The most stable bird tables can be stood on hard ground, such as patios, without the need to be pegged down.
Durability       
Treated woods and those with antibacterial coatings will have a longer life expectancy. Choose a higher quality wood with proven sustainability.
Useful tips for your bird table
Keeping a bird table clean is essential to prevent the spread of disease. Whilst most people recommend giving the table a quick blast with the hosepipe, I find that placing a small vinyl mat on the food tray works wonders. An off-cut of kitchen lino will do. It's easier to lift out and wipe clean each time you replenish the food.
By attaching hooks to the table can increase the amount and variety of food you put out. This is ideal to hang fat balls or suet filled coconut shells from.
To extend the life of the bird table, a quick rub over with teak oil works well. It is inexpensive and looks great.
Best Bird Tables
The Hutch Company XL Ballycastle Bird Table 

My initial reaction to this bird table was how simple and elegant it looks.
It is hand made in the UK from sustainable wood and has a very substantial feel to it.
Best feature
It is delivered quickly in 2 pieces. The main house that is ready-assembled, the stand and legs, the twisting feet, and the screw-on finial for the top. Instructions are clear and with little more than a screwdriver, or drill for speed, you should have it assembled in less than an hour.
It is inviting for all bird, the larger ones can get in for a feed too. People who aren't happily feeding the pigeons have made a couple of simple adaptations to only allow the smaller garden birds in.
The company boasts that the product has been designed with grandma in mind! Highlighting just how easy it is to assemble.
Pros
Stunning good looks
Pre-built
Heavy-duty and durable
Twisting feet for ultra stability
High-quality materials represent great value for money
Very fast delivery
Attracts numerous garden bird varieties
Cons
Doesn't keep pigeons or squirrels out
Some assembly required
Natures Market Slate Roof Bird Table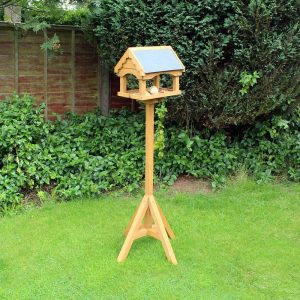 Nature's Market bird table has some lovely design features, scalloped wooden trims and a slate effect roof make it look really attractive.  The realistic 'slate' is resin so won't crack or chip and wipes clean very easily.
Everything required is supplied in one sturdy box and will need to be assembled. It isn't daunting as the instructions are clear and all of the outer holes are pre-drilled for easy alignment. The interior holes need to be self-tapped but this makes perfect sense when you realise it will ensure complete accuracy. Assembly should take less than an hour.
Best feature
This is one of the taller bird tables that I have looked at, it is a smidge off 5ft.tall which makes it more difficult for prowling cats to get onto.
The table is very substantial and all of the wood has been pre-treated for longevity. Talking of the wood,  each piece is FSC certified which ensures that not only will you be getting high-quality wood, but that it also came from well-managed, sustainable forests.
It is available at a great price and not only be inviting for our feathered friends, but it will also add a touch of style to your garden and be the envy of the neighbours!
Pros
Affordable
Straight-forward assembly
All screws included
Gorgeous design
Wood is treated and from a sustainable source
Tall than many similar models
Durable construction
Cons
Cross-head and flat head screwdrivers required
Some holes require self-driving
Maypole Anti-fungal Heavy Duty Bird Table

If you're looking for a bargain bird table and don't mind a little assembling, this table is worthy of consideration.
And just because this one costs a few pounds less, don't think it skimps on quality, it doesn't.
It is solid and sturdy, so much so that it is fine to put on hard ground.
However, if you live in particularly windy conditions and want it on the lawn, it has a flat base suitable for pegs.
All of the wood has been treated with Marcide anti-bacterial which is particularly effective at preventing the spread of disease.
Best feature
All of the pieces are made in the UK out of wood from sustainable forests. For every single tree that gets cut down, 2 more are planted.
We love how eco-friendly and ethical this company is.
This bird table requires some assembly. All of the pieces are pre-cut and pre-drilled, it is just a matter of screwing them all together. The hardware is all supplied so you don't have to worry about digging out the right sized screw.
The step-by-step instructions are clear and concise. It should take less than an hour from unpackaging to loading your table with its first batch of food.
It stands at 4'8" and the covered feeding area is quite spacious; it has room for several birds at a time. If you don't mind magpies and other large birds, there is enough room for 2 or 3 of them to dine together.
Pros
Affordable, value for money
Straight-forward assembly
Easy to follow instructions
Flat base ideal for patios or for staking down
A large, covered feeding tray
All hardware included
Made in the UK
Anti-bacteria treated
Cons
Assembly time of approximately 1 hour
Not pigeon proof
The roof might benefit from extending a little further
Fordwich Rare Bird Table Retreat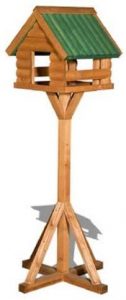 If like me, you were first attracted to this bird table because it looks like a luxurious Scandinavian holiday retreat, there is a very good reason why.
It has been hand-built in the UK  from sustainable Scandinavian log lap wood to an extremely high standard. Each table looks and feels substantial and high quality.
As the wood is soft, some owners have given their bird table a clear coat of varnish for added protection. Others that haven't claim that even after a good summer and harsh winter, their table
 looks like new. That ticks the durability box.
Best feature
The table's design has been thoughtfully planned to discourage the greedy large birds such as pigeons and magpies. The outer lip also makes it impossible for a cat to get onto it.
Once the garden birds realise there is little or no threat from the larger bully boys, they should come flocking.
It arrives in a sturdy box and is in 2 simple to attach parts. The house just slides onto the sturdy stand and has 4 locking nuts to tighten. When assembled it stands at 4.5 feet tall and is the perfect height view the birds as you relax in a chair.
We love that the table looks like a birdy holiday lodge, complete with its contrasting green roof. Apart from being functional, it is a very attractive garden ornament.
Pros
Made from sustainable log roll timber
Heavy-duty and durable
Easy to assemble
Very pleasing to the eye
Includes a sturdy stand and stable platform
Discourages cats and large birds
Built by hand in the UK
Large feeding area to keep several birds warm and dry
Cons
Some assembly required
Not squirrel proof
In high-wind conditions, it may need to be staked down
Hove Fence Wall-mounted Bird Table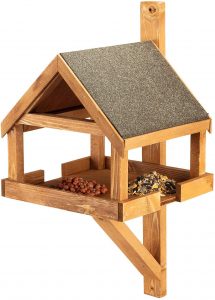 Our final bird table is a little different. Previous ones have been traditional, free-standing models but this one can be wall or fence mounted. It is ideal for gardens with limited space or for windy areas where keeping a bird table upright is an issue.
It is crafted by hand from high-grade timber, it looks and feels sturdy. Each part of the timber has been treated with 2 layers of anti-bacterial coating to not only extend the life but to also protect the health of the birds.
We love the design, it looks great and has a durable felt roof. It slopes to allow the rain to run away and has enough clearance so that it doesn't drip onto the food tray.
Best feature
There is no assembly required. It is delivered ready built and even has 2 pre-drilled holes to fix it to the post with. All that you need is 2 screws and its up and ready to be used within a matter of minutes.
It is ideally suited to small garden birds, a pigeon would need a physics degree to work out how to get under the roof. If you have particularly brainy pigeons, many users recommend tacking a thin strip of ribbon across the front to bamboozle them. This way, all of the little birds can fly in and out freely.
Pros
Fast, free delivery
Arrives fully assembled and pre-treated
Ideal for limited space gardens
Heavy-duty, robust, and durable
Easy to install
Large, covered food tray
Keeps birds protected from wind and rain
Cons
Best Bird Feeding Station
Feeding stations usually require less room in a garden and are very easy to install. They often take little more than pushing a spike into the ground.
As they have so many hanging spaces, the variety of foods that you can load it with is endless.
With different food types, comes different types of bird.
They are also better suited than wooden bird tables if you have a squirrel issue. The metal pole is more difficult for them to navigate, particularly if you apply a little grease from time to time.
Take a look at 5 of my favourite bird feeding stations.
Kingfisher Bird Feeding Station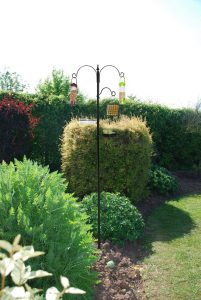 The first station is an absolute bargain price. The costs have been kept down as it is only supplied with a water bowl and a mesh tray, no feeders. There are 3 decorative hanging hooks, and if you prefer to make your food or have existing feeds, this could be ideal for you.
It is delivered quickly and comes well-packaged in a box with clear and simple instructions;
assembly should take around 10 minutes. There is a 3 part tube that slots together, and all of the brackets and hooks bolt-on. Everything that you need is in the box.
Best feature
Well, if it isn't the low price (did I mention this is cheap), it must be the durability. It is made from steel with a powder-coated finish so it is strong and rust-resistant.
It is surprisingly sturdy and can take the weight of several birds at a time.
The point at the base of the pole enables the user to push it directly into the soil with ease. It stands at about 5 feet tall and is easy to move to different areas of the garden.
Pros
Very reasonably priced
Fast delivery
Durable steel construction
Water dish and mess tray included
Easy to build with all hardware included
Rustproof
3 hanging brackets for different foods
Cons
The poles could be threaded for added strength
No feeders included
Tom Chambers Grand Bird Station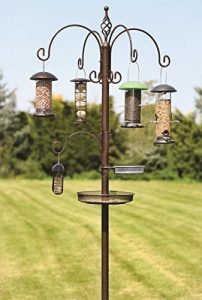 If you're looking for a premium bird feeding station that will make you the envy of all of your neighbours, this is the one for you.
It manages to look strong, sturdy, and elegant all at the same time. The powder-coated bronze effect finish would compliment any garden.
It has 4 hooks from which you can hang feeders, 4 at the top and another one lower down. The water dish and mesh tray are included. I love that the pole runs through the tray making it feel very secure, even when the pesky big birds congregate on it.
Best feature
Most feeding stations have a sole spike that slots into the ground. This one has a cleverly designed support system. 2 stabilising feet form a cross at the base and have a prong at each end. That is an extra 4 spikes in total to ensure your feeding station stays secure in the ground in all weather conditions.
From the ground to the tip of the centre finial is almost 7 feet so it stands nice and tall. Cats have no interest in attempting the metal pole and most squirrels won't either. If you have a particularly persistent squirrel, there is a baffle available that fits the wide pole and, well, baffles them!
A handy hint is to fit the mesh tray upside down, that'll fool them.
Pros
Heavy-duty construction
Strong anchor with stabiliser feet
5 ornate hanging hooks
Fast and easy assembly – no tools required
Water dish and mesh tray included
Strongest available on the market
Premium looks and quality
Cons
No hanging seed feeders included
The mesh tray is awkward to clean
Perky-Pet Deluxe Wild Bird Feeding Station

This simple feeding station arrives quickly and can be put together in moments. The poles slot together one way only and the spike end is at the bottom, it's foolproof!
I love that the small hook, water dish, and mesh tray can be positioned anywhere you want them. Just sit them in place, tighten the wing nut, and it's done. Once everything is in place it simply pushes into the soil and you're good to go.
Best feature
This is the first bird feeding station that comes with hanging feeders, and they aren't everyday ordinary ones at that.
The first is a spiral suet ball holder. It is designed to look like a honeycomb, familiar to birds, and has a decorative metal bird sat atop.
The second is a slope roofed birdhouse; the rain simply runs off to keep the seed clean. It has a perch and a feeding port on both sides and the housing is transparent so it's easy to see when it is time to top up the seed.
It is constructed from powder-coated steel so is weatherproof, and will last for a very long time.
It stands at 2 metres tall and will attract all manner of garden birds to your garden.
Pros
Easy assembly, no tools required
Weatherproof and study
Can be configured how you choose
Includes 2 unique hanging feeders
Supplied with water dish and mesh tray
Modern design
Easy clean
Cons
May lean with heavy birds if not stabilised
Green Jem Wild Bird Feeding Station with Leaves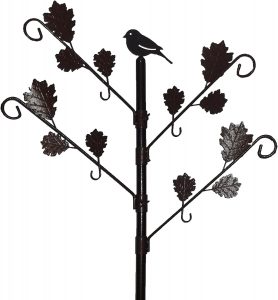 This pretty tree design is made from strong metal and finished in a brown hammer tone. It will blend in any garden, and the little birds, with their amazing eyesight, will soon become frequent visitors.
It stands 2 metres tall and is simple to put together, it consists of 3 poles that slot onto together.
Each branch can be positioned wherever you'd like it, they don't all have to go on the highest pole. The tree looks great with the branches all out at random spaces with different shapes and sizes of feeders on.
Best feature
This feeding station looks so different from anything else available at the most. The long arm 'branch' design makes it stand out from the crowd. There are a huge 8 different places to hang food or feeders from.
The little bird sat atop the tree is a nice finishing touch, and, if you have a squirrel problem, they may struggle.
There are no designated landing areas on this station, nowhere for them to sit as they plunder the bird's peanuts.
Pros
Unique design
Sturdy metal construction
Virtually squirrel proof
Elegant hammered finish
Enough hooks for 8 different feeders
fast delivery
Cons
Doesn't come with feeders
Nowhere for a water dish
Wingnut threads can be tight
Gardman Complete Bird Feeding Kit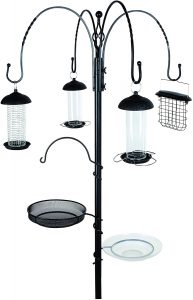 This feeding station is a great price considering that everything is included, more about that in a minute.
This is the first one featured in the reviews when the birdbath clips to the ring holder, brilliant to stop it blowing away in the wind.
It is delivered flat-packed but is easy to assemble. The instructions are clear and I love that you can figure all of the tray and hooks to any position that you choose.
Best feature
A wide variety of hanging feeders is supplied with this bird station. There are 2 seed holders, 1 peanut holder, and a cage for blocks of suet.
There is also a mesh tray and a water dish that attach with a spiral of metal. It is a bit fiddly but looks great and ensures they stay in place, even when big pigeons sit on them.
I like how the poles screw together, it seems to give them added stability. All of the metal has a black powder-coat paint finish. This should protect the metal through many harsh winters.
Pros
Great value for money
Easy to assemble
Weatherproof
Multiple bird feeders supplied
Hooks can be placed wherever you choose
Enhances any garden
Both mesh dish and water dish/bath supplied
Cons
Benefits from a stabiliser (separately available)
Relatively thin pole
Useful tips for bird feeding stations
Although all of the stations claim to be stable, certain gardens can be very open and prone to regular high winds. I would recommend buying a stabiliser kit to ensure your feeding station is anchored securely. They are widely available and can save you a huge mess and the cost of having to replace your station.
If you want to stand your bird feeding station on a patio many brands sell hard-standing bases. Sometimes it is more cost-effective to buy a patio umbrella stand.
And finally,
Whichever bird table or base you choose, remember to change the seed regularly to keep it fresh. Water is not only needed for drinking but also bathing in.
There can be few more wondrous sights than relaxing in a chair and watching a pretty songbird eat from your feeders before going for a soak.