I have been very fortunate to come across the best quality bird seed I have ever personally used!
Firstly, I would define "Best Quality" as being a seed that is not full of food that the birds reject (flick onto the ground!) and is packed full of the right types of seed.
This food has seen a greater number of birds almost continuously at my feeders, it has also increased the variety of birds I have seen in the space of the first week of using it.
The food is Richard Jacksons High Energy Bird Food
Want to find out more? Read on!
The False Economy of bird food
The large majority of households will purchase cheaper bird food. You will also find that a lot of garden centers will sell huge sacks crammed full of bird food and what appear to be very reasonable prices.
The problem with these types of bird food is that they are packed with "filler" food that is rejected by birds and ends up on the ground beneath your feeders.
This leads to even more problems! Namely, the seed can germinate causing additional garden maintenance work and food left on the ground can lead to the attraction of mice or rats.
Some larger bags of bird food contain up to 50% wheat flakes! Thats half the food you have bought that doesn't even end up getting eaten!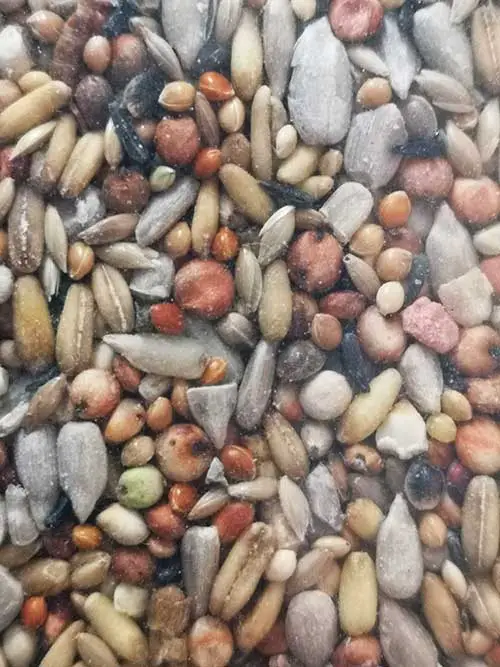 My feeders hang near a wooden structure in the garden where several well-established climbing plants grow. Needless to say, the birds are using the climbing plants as a queuing platform to access this bird food.
I have tried many bird food types, both cheap and expensive, and I haven't encountered another food like this that attracts so many birds to my feeders.
Not only that, the variety of birds I am getting has seen immediate improvement!
The exciting first new arrival to my feeders was a Blackcap. Not terribly rare, but certainly not commonly seen on bird feeders, especially in Winter when I first tried out this food.
2 further unusual visitors (for me anyway) were Long Tailed Tits and Wagtails.
I usually find that I frequently get Sparrows, Blue Tits, Great Tits and Robins to my feeders but am now finding the variety of birds coming to visit is improving noticeably fast.
Within the first week of using this particular food mix, I witnessed the following birds feeding: Sparrows, Blue Tits, Great Tits, Blackcaps, Goldfinches, Robins, Long Tailed Tits, Wagtails, Bullfinches, Coal Tits and finally Wrens and a Pheasant feeding from the ground.
Does this food get used up faster?
Yes it does, and thats a great thing! It shows the quality of the product and the sheer number of birds coming to visit compared with using cheaper food.
It is truly wonderful to see so many birds flock to enjoy this food and I mean literally every time I gaze out of the kitchen window, there are always between 5 and 10 birds around the feeders either on them or waiting for their turn.
If any of this food happens to hit the ground, it is quickly eaten by a ground feeding bird and is never given a chance to reside there for more than a few seconds!
By providing an additional type of food such as fat balls, or peanut butter for birds, you can allow the birds to have more areas to feed. I have the Peanut Butter Feeder next to the bird seed feeders and it compliments them very well.
How much does it cost and how long will it last?
The food is £9 for a 2kg bag, £16 for a 5kg bag and £30 for the large 12.75kg bag.
It is financially economical to buy a large bag, but if you have doubts at my review or the reviews of many on both here on Richard Jacksons Garden and here on Amazon then you could always try a smaller bag first!
A 5kg bag lasted me just over 3 weeks in total so I would imagine that a £30 12.75kg bag would last for 7-8 weeks or around 2 months depending on time of year.
If you really love birds and want to attract more and a larger variety to your garden, £30 for 2 months of bird feeding is really quite reasonable.
The large sacks from garden centers that can be filled with 50% wheat flakes, are normally around £20. So considering this food has no wheat flakes, it actually works out cheaper for a high quality premium food than buying the food that is bulked out with the flakes.
Final thoughts
Have you ever visited an RSPB bird hide and seen the enormous number of birds at the feeders?
I would compare my feeders to this now and it makes me very happy to know that I am not only feeding the birds in my garden but feeding larger numbers of birds. Not only that, the number of different types of birds has increased.
If you want more birds in your garden, a larger variety of birds and to be safe in the knowledge you are feeding them a premium food, then this is the food for you!
You can buy the High Energy Bird Food direct from Richard Jacksons Garden here.
It is also available here on Amazon but the price is slightly higher so it is best to buy it directly from Richard Jacksons Garden for a better price (and to support a business directly rather than Amazon)