I have read that the male blue tit has more vibrant colouring than the female and had hoped this might help me to sex them when they are together in my garden.
No such luck, they either don't get close enough or hang around long enough for me to deduce!
I decided to research the difference between male and female blue tits, and see if it was easy to identify them with my newly found knowledge.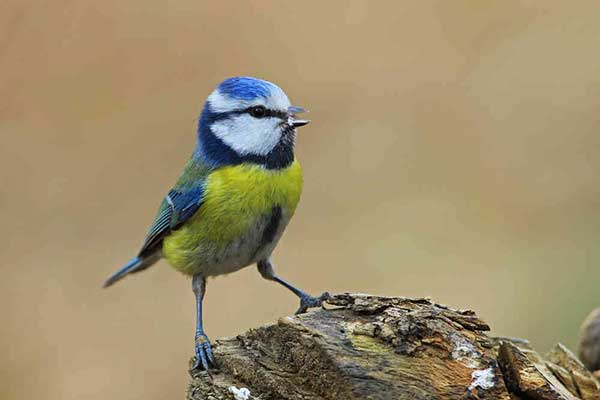 Not the easiest task, at least not in the garden with the naked eye. Although the male does have a brighter plumage with a deeper blue on the crown, unless it is stationary next to a female and you're an ornithologist, it is still quite difficult to tell!
A more obvious marking is the neckband that runs beneath the eye line and continues down behind the neck. This tends to be much broader on the male bird, often twice as thick as on the female.
Recognising the differences between male and female blue tits is difficult by physical appearance alone, combining it that with their behaviours tends to make things a little easier.
Differences between male and female behaviours
April is the best time of year to differentiate between the sexes of blue tits – breeding season begins.
They are both active but doing different jobs.
The female blue tit is busying herself building their nest, almost always single-handedly.
If you catch a glimpse of the bird with moss in her mouth, you know what she's up to. Once the basic cup structure of the blue tit's nest is built, again it is the female that seeks out soft lining materials such as feathers, fur, hair, and wool.
This whole process can take anywhere between 1 and 2 weeks for her to complete.
The male blue tit becomes very territorial at this time of year, he is more vocal and will get into little skirmishes with other males to protect what is his.
The male blue tit likes to share the love, he is polygamous and thinks nothing of having several pregnant females in his territory. He feeds all of them and their chicks.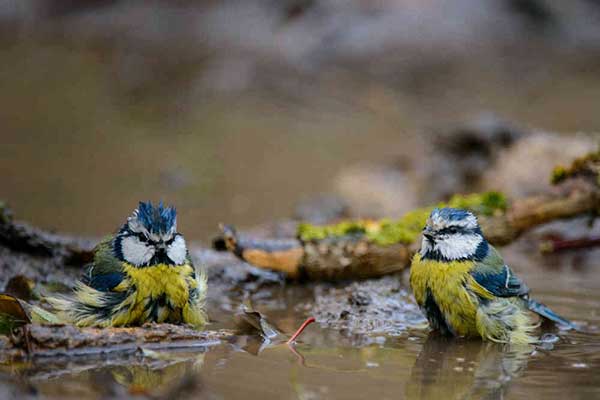 From the beginning of May, you are increasingly less likely to see the female bird, she is busy laying eggs. They have huge clutches of between 8 and 12 eggs, although sometimes as large as 16 eggs. As she lays just 1 egg each day, she has little time or energy to do much else.
The male makes multiple returns journeys to feed her as she incubates the eggs.
The female plucks some feathers from her chest, this is known as her brood patch. It allows the eggs to stay in closer contact with her skin, therefore keeping them warmer.
Once the chicks have hatched, the male continues most of the feeding, but the female will assist from time to time. Insects, particular caterpillars are the staple diet of the nestlings.
Identifying blue tits outside of the breeding season
I'm afraid this is where the untrained eye might struggle. Arm yourself with a BTO guidebook, take lots of photographs, and uses your binoculars to familiarise yourself with your blue tits, see if you get any joy.
Final thoughts…
The male blue tit has no trouble identifying a mate, he looks for a female with the brightest coloured crown as he believes this denotes the markings of a good mother.
For the rest of us, telling the difference between a male and female blue tit might have to remain educated guesswork.
Unless we invest in an ultra-violet light…apparently the head cap of the male blue tit glows vibrantly beneath one!