My garden isn't huge, I mean it's big enough but not what you'd exactly call sprawling. Sometimes it's nice to get a close-up view of the birds at my feeders, without spooking them and frightening them away.
I do own a good pair of binoculars but find for the distance I need to see, a monocular more than suits my purposes.
I have researched and reviewed the best bird watching monoculars currently available.
I chose my favourite models from a wide range, to suit all budgets and that have variable viewing capabilities.
What is a monocular?
A monocular is an optical instrument used to view things far away. Unlike binoculars it covers just one eye, making it more portable.
Monoculars are refracted telescopes that use the light passing through their system of lenses and prisms to magnify distant objects.
Due to them being so compact, monoculars have multiple uses such as camping, travelling, hunting, studying wildlife, and of course, bird watching.
It is like having a lightweight and portable telescope handily tucked away in your pocket.
The ability of a monocular is represented as 2 numbers, the first is the number of times the image will be magnified, and the second is the width of the objective lens in millimetres.
If you're looking for a hobby monocular for watching the birds in a back garden, this is worthy of serious consideration.
It is compact, extremely robust, and performs very well, all of which far belies its budget price.
It is an 8 x 52 monocular, 8X is the ideal magnification for bird watching and the objective lens is very wide, ideal for letting in lots of light for bright, clear images.
The barrel has a rubberized finish, not only does this provide a comfortable grip, but it also offers protection against drops or bangs. The large lens has a rubber bezel to give it increased protection. It also keeps the monocular waterproof, ideal for typical UK rainy days! The rubber seals also prevent dust from attacking the inner workings and shortening its life.
It has an easy to operate focus wheel, the smallest twist enables you to bring your subject into best focus. It has no problem seeing crisp images of birds at a distance of 100m, and c is comfortable viewing birds at a range of up to 400m. If you care to look skywards, you will be impressed at it's stargazing capabilities.
This is a beautifully made monocular that is lightweight enough for elderly people to use. If you're a glasses-wearer, there is a rear adjustment wheel to compensate for your specs so that there's no need to remove them.
It is supplied with a wrist strap, neoprene carry case, cleaning cloth, user guide, and a 90-day quibble-free money-back guarantee.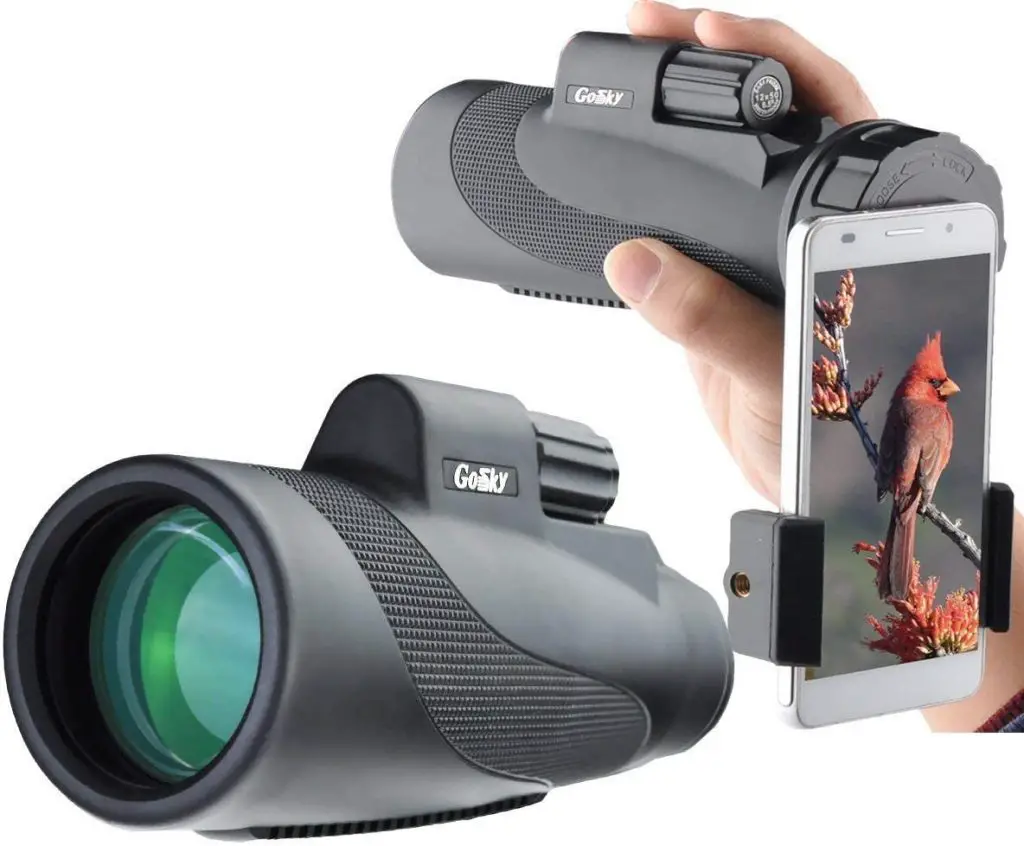 The Gosky monocular is a robust piece of kit with a chunky armoured body that not only protects it from damage but keeps it protected from the worst weather conditions.
The tight rubber seals keep out harmful moisture and dust whilst keeping it comfortable to grip.
The 12 x 50 images are incredibly clear and bright, this is due to the large BAK-4 Prism and the multi-coloured lens coating. This provides superior light transmission to provide high-resolution images with amazing clarity. With a viewing field of over 1000-yards, you can pick out and track birds at huge distances.
The monocular is supplied with an adaptor to connect a smartphone, virtually every model is compatible. There is a holder that securely grips the phone and displays exactly what you can see through the lens. This has multiple benefits; you can screenshot or video all of the action to save and share, you can also use the phone's function to zoom in much closer on the subject.
Not only is this great for identifying birds, but it also saves having to carry heavy and expensive camera equipment.
The base of the monocular has a ¼ thread to screw a tripod into. Although there isn't one supplied, they are inexpensive and worthwhile. All of the best views and images are taken from a steady device.
It is comfortable to use whether you wear glasses or not, the adjustable soft eye-cup ensures this. It is also comfortable to hold, the armoured stripes enable the user to grip it without fear of dropping it.
It's a well-made monocular that weighs just 13ozs, it is lightweight and portable, making it ideal for bird watching and multiple other activities, including stargazing.
If you're looking for a monocular for daily bird watching in your back garden, this is the ideal product. It is inexpensive, yet powerful, lightweight, and portable.  It is only 6oz so is perfect for older, frail hands to grip. This is aided by the 1-piece rubber body that ensures comfy and secure handling.
It is 10 x 25 magnification and makes viewing birds 100 metres away simple. The field of view is very wide so it is easy to keep the birds in scope when they're on the move or in flight.
BAK 4 optics provide a crisp viewing experience even when outdoor conditions are dull. Don't fear rain either, the monocular is water and fog proof, meaning it won't mist up in cold weather.
The 25mm objective lens is wide enough to invite increased light transmission, resulting in rich colours and maximum resolution.
The Celestron comes with lots of accessories, including a clip-on belt case. This attaches securely in a holster style and keeps the scope securely at your waist whilst on your travels.
It is compact enough to sit snugly in the palm of your hand and couldn't be easier, requiring just 1-hand for focus adjustment.
I love this dinky little tool and think it is the best monocular for bird watching in a back garden.
Landove Waterproof Spotting Scope- Prism Scope
This is the first of the reviewed monoculars that have variable magnification. You can use the dial to simply adjust been 20 and 60 times magnification and when combined with the large 80mm diameter lens, results in exceptionally crisp images. Brighter viewing occurs when a larger lens allows plenty of natural light to transmit through. This lens is multi-layer- colour coated and lets 99.5% of natural light pass through.
The BAK 4 Prism ensures the image stays contrast-enriched throughout the entire zoom range. All of the colours remain rich and intense, even at 60 times magnification.
The scope has a smartphone holder and comes with an adapter to attach your phone. Once they are connected you can take still images or record video of whatever the monocular can see. Not only will you be able to see spectacular birds at great distances, but you will also be able to record them to share with friends and family.
The frame for the scope is exceptionally robust, it is sealed in a rubber armour that keeps the monocular water-tight, fog and dustproof. The strong construction means that it can withstand rough usage, drop it on the ground and it won't break; it is shockproof.
It is simple to alter the elevations of the scope to provide varying viewing angles. This is particularly useful to do when using a tripod.
One is supplied, a small, table-top style which greatly reduces wobble resulting in perfect images. The 1/4" female thread fits most tall tripods should you prefer. 
While it isn't palm size, it's still lightweight and portable.
This is an excellent value for money monocular that performs exceptionally well over great distances. It is suited to many purposes from garden bird watching through to late-night astronomy.
This is the top of the range of monoculars to be included in my reviews. Whilst it is the most expensive, it still provides excellent value for money with its incredible performance at both long and close range.
The large objective lens is multi-coated to provide crisp and detailed images. 20 x 60-80 magnification power guarantees spectacular results. When this is coupled with BAK 4 Prisms technology you are guaranteed superior quality colour and contrast.
This is a larger monocular device than most already featured, measuring 15.7" long. It certainly isn't bulky and weighs just 1.3kg making it an ideal companion for wildlife and nature treks. The shoulder holster enables it to sit snugly on your shoulder, freeing up your hands to adjust the focus as required.
It out-performs many other models at distance; the user will clearly see images at distances of over 1000m, and more, making coastal or sea bird watching an absolute treat. However, in more confined spaces such as back yards, the scope comes into its own. It allows the user to pick out the most minute, definitive details on subjects as close as 3.5 metres away.
It comes with a secure cover that offers maximum protection from the elements and stays in place even when you use it with a tripod. The eye-cover folds down to make comfortable viewing even if you wear glasses.
The scope has an integrated port to connect to a camera or smartphone. Not only can you see incredible distant sights, but you can also record the images to share. If your camera is equipped with video technology, you can make short films of exceptional quality.
The scope provides full-body rotation, enabling the user to twist it into multiple directions for viewing from virtually every imaginable angle.
This is a rugged and durable monocular that is water, shock, and dust-proof. It's modern, lightweight styling is not only aesthetically pleasing, but it also provides exceptional performance.
This is the best monocular for bird watching from huge distances or at close quarters, regardless of the level of natural light, you should always expect a clear, crisp, and precise view.
With a lifetime guarantee against damage or defects, all ornithologists and twitchers should consider investing.
Final thoughts…
Whether you want help identifying birds from different species or are fascinated by their quirky mannerisms or beautiful plumage, the best monocular for bird watching is the ideal tool to keep handy.
The ability to magnify the birds upwards of 8 times their actual size, even when at great distances, can help to make you feel closer to our feathered friends.
It certainly has for me.