Have you ever watched a garden bird take a bath? I have and it is a delightful sight, watching them puff up their feathers to clean and cool themselves, splashing as they go.
Most people who feed birds regularly know the importance of a constant supply of fresh drinking water. If the dish is big enough, birds will hop into it for a quick bath.
The best birdbaths attract more birds to your garden, ensure the drinking water is used just for quenching thirst and give you something wonderful to watch.
Why Do Birds Bath?
Birds need to bath to keep their feathers in peak condition, damaged feathers prevent birds from flying. If a bird can't fly it is more susceptible to predators and can't collect food.
In cold weather, birds rely on their feathers to increase their body temperature. They fluff them up to increase blood flow and provide a natural blanket. Dirty feathers make it virtually impossible for the bird to fluff them up.
What to Look for in the Best Bird Baths
Birdbaths come in all shapes and sizes and come in styles that suit every garden.
STYLE
Hanging bird bath feature a dish attached with chains. They are usually inexpensive and can be hung from branches, brackets, and feeding stations.
Wall-mounted baths are decorative and made of metal. They need to be fixed to a wall or tree so require a little effort and some tools.
Free-standing birdbaths are made of various materials and can be placed on the ground or walls. Some have pedestals, some are just a basin style. They have the advantage of being portable making them easy to fill and clean.
Spike bird baths are often small and inexpensive. The bath sits on a slim metal pole with a pointed end that can be pushed into lawn or soil.
MATERIALS
Stone birdbaths come in all designs and sizes. Some are small while others are full-size sculptures. There is a huge variation in price, from a few pounds to hundreds. Larger stone birdbaths will last forever.
GLASS
Glass bird baths are usually made with heat-treated glass to give them greater strength. They often have beautiful colourful designs to brighten up the garden.
RESIN
Resin bird baths are inexpensive, lightweight, and portable. The plastic-like material is often painted to feature metal and is rain and weather-proof.
DESIGN
There are hundreds of options. From simple, classic bowls, to baths that have flower planters, solar lamps, even fountains built-in.
EASE OF USE
You may need help installing or carrying your birdbath, dependant on your choice.
You will need to freshen them up regularly; this can be done as part of a watering regime, with a watering can or hose. To prevent the build-up of harmful algae, birdbaths need to be kept clean. Remember not to mount or hang them in positions that are too high or awkward to get to.
I have chosen my 10 favourite birdbaths that fall into many categories. I've opted for the best birdbaths from the budget, premium, and decorative ranges.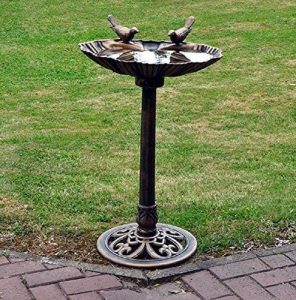 Who doesn't like buying something that looks much more expensive than it cost?
That is the case with this bronze coloured birdbath.
It is made from lightweight resin that is easy to move around the garden and simple to clean. It stands at 81cm  tall, a little shy of 3 feet for us old-timers.
The bowl is shell-shaped and deep, making it ideal for all birds, even crows and magpies. If it is very full, it's a nice idea to place a couple of big stones inside for the smaller birds to sit on. They're also perfect for the butterflies and bees to rest and have a drink.
Best feature
It is weatherproof and will stand strong in all conditions, even frost. There are pegs supplied to anchor it into the grass, if it is sitting on hard-standing, such as the patio, fill the hollow stem with sand or gravel to keep it in situ. It will last for a very long time and enhance the garden.
It is a beautiful birdbath that looks so realistic, you need to touch it to realise that it isn't made from metal. The decorative base adds to the overall eye-appeal.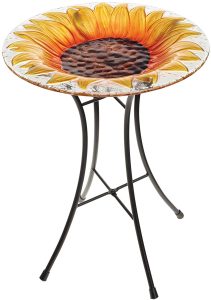 What a beautiful way to brighten up a garden, particularly when it's cold outside and the branches are bare.
This beautiful toughened glass bowl is infused with a delightful sunflower design of vibrant yellows and oranges.
The basin is shallow and welcoming for all of your favourite small birds, whether to bathe or drink. It stands 46cm tall, ideal for small gardens and spaces, the width of the bath is 36cm.
Best feature
It is simple to assemble. The metal frame provides a sturdy for the dish to rest on, that's all it takes. The weight of the glass and water should be enough to hold it down, though in high winds it is advisable to anchor it down or move it to a sheltered spot.
It couldn't be simpler to fill or clean, it is a comfortable height to top up with the watering can.
It is weather-resistant, even the frost won't harm it.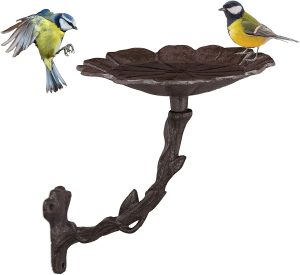 This is the 1st wall mounted bird bath that we will look at. It is perfect to hang on walls, sheds, and balconies, ideal for those with not much outdoor space or big gardens.
It is lovely to look at, shaped like an open flower on a stem, birds can perch on the petals for a drink stop or splash in the water at bath time.
Made from cast iron it is robust and solid, it will last for a lifetime and be protected from all the worst element.
Best feature
It doesn't have to be a birdbath, you can use it as a feeder if you so choose – or alternate. The long stem also acts as a hook, you can hand a lantern or a plant pot from to add to its beauty.
It has 3 pre-drilled holes ready to attach it to the surface, you will need to supply the screws.
No matter what you choose to use it for, it is a beautiful piece of garden décor that birds will take advantage of all year round.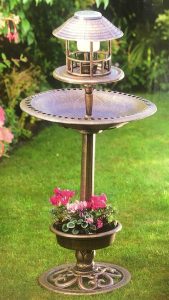 Why just buy a birdbath when you can have a decorative garden feature instead?
This is a gorgeous free-standing birdbath made from lightweight and durable resin. It has a bronzed coloured painted finish that closely resembles the antique metal.
It is weatherproof and can withstand all of the elements.
Assembling the birdbath takes around half an hour as there are several parts to attach. You will only need a screwdriver as most of the parts simply click into place.
Best feature
There is a planter at the base of the stand; the ideal way to add some natural colour and life to the birdbath. At the top is an attractive lantern that is solar-powered to flood the area with bright light. The included battery is naturally charged by the sunlight throughout the day and automatically switches the LED light on at dusk.
Although the bath is lightweight and portable, when filled with soil and water it becomes heavy enough to keep the whole thing perfectly weighted. If you're still concerned, there are tent pegs supplied to anchor the bath into the garden.
I love this value for money birdbath, it adds light and colour to any area of the garden. The garden birds are will be drawn towards and soon be splashing around in the lovely, deep bowl.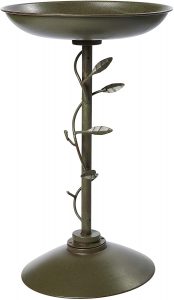 If you're looking for a good value free-standing birdbath, this is worthy of serious consideration.
It is made from rust-resistant metal ensuring it's long-term durability. The bird bath looks elegant and has a beautiful leafy vine twisted around the main stem.
It comes nicely packaged, so nice that it is a nice gift for the bird lover in your life. The user needs to simply screw the base and the bowl at either end of the stem.  With no tools required it could be in the garden, filled with water in minutes.
Best feature
With some birdbaths, their ability to withstand high winds is always a consideration. This free-standing bath has a low centre of gravity and an extra-wide base that ensures it will stay wherever you decide to put it.
The flat surface inside the bath make it the ideal surface to add an inexpensive solar fountain, they are only a few pounds and available on Amazon.
The outer rim is strong enough for all species of bird to perch on as they take a drink, the shallow bath is better suited to the smaller birds to take a dip.
This birdbath is one of my favourites and with its simple yet classic design it will complement any garden.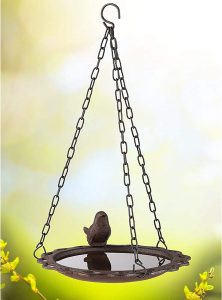 I love hanging birdbaths, They are adaptable, most can be used as feeders or baths, and they can be suspended from lots of places. This vintage cast iron design looks fabulous whether hanging from a branch, bracket, or feeding station.
It is made from cast iron which is known to be heavy and durable. This bath has enough weight to prevent it from tipping as the birds land, without being too heavy for thinner branches.
There are 3 long chains for added stability with a hook to attach to your chosen surface. You may need to replace the hook with a larger one if a branch is particularly thick.
Best feature
The bath is lovely to look at and offers a shallow washing or drinking area. The vintage bronze finish ensures it blends in well with most surroundings, and the little bronzed bird might attract real birds to come and make a splash.
When the weather is warm you will need to remember to top the water levels up regularly, so don't hang it too high.
The vintage styling makes this the best hanging birdbath, particular as it is dual purpose and can also be used a feeder.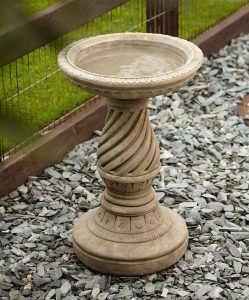 This is more than a birdbath, this is an impressive stone piece of furniture that will become the focal point of any garden.
It features a simple, classic spiral design that is as timeless as it is elegant.
It would look at home in any commercial property, in the grounds of residential buildings, or as the centre-piece to any bird lover's garden.
Best feature
Made from reconstituted stone, the stand has been thoughtfully hollowed out to reduce the weight, making it more manageable. The solid base and bath take the weight to 41kg. Each model is hand-made by craftsmen who take pride in making each piece to the most beautiful, high stand. Beneath the base, there may be a signature and date of crafting etched into the stone.
It is delivered by pallet in two pieces, the bath rests on top of the pedestal, where the peg and recess hold it securely in place.
The bird bat can withstand any weather conditions, it is solid and robust.
It is 63cm high and the bath is 2.5cm deep, it is perfect for all species of garden birds to have a really good splash about in.
This birdbath will be a beautiful feature in the garden for many years to come, it is well worth the price and will only bring you joy.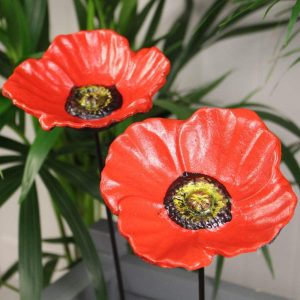 If you're looking for an inexpensive way to brighten up an area of your garden and to give the birds somewhere to have a drink or bathe, look at these gorgeous poppies.
There are 2 in each pack and each takes second to assemble, you just need to screw the end of the stake into the recess in the base of the bath.
Made from cast iron with a bird-safe painted surface, they are strong, durable, and able to survive even the harshest weather conditions.
I love that they can be slotted into the ground anywhere you choose and won't bend or break. If you don't have any lawn, pop them into a pot and place them on a driveway or patio.
Best feature
They are a lovely way to commemorate Remembrance Sunday, and for each set bought 50p is donated to the Royal British Legion.
They stand 77cm tall and the bathing area is almost 15cm diameter, that's a healthy 6". Bigger birds might use it to drink from, smaller garden birds can have a quick dip. It will also attract bees and butterflies for a well-earned drink.
The poppies are well-made and can be used as a feeder if you prefer. We recommend drilling a few small holes to prevent any seed from becoming waterlogged.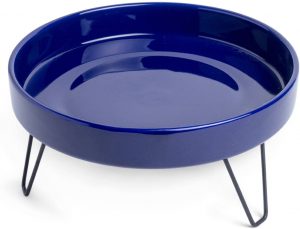 This attractive blue birdbath is suited to ground use, place it on the floor with shelter close by and watch the birds come flocking. It looks equally good on a table, bench, or wall.
The bath even comes with a rust-proof tripod with fold down legs. It only stands 3cm tall but ensures the bath is stable even when the surface is not quite even.
Best feature
The bath is 30cm diameter, that's a whole foot of bathing space. There is plenty of room for all of your regular garden visitors, including the pigeons and magpies. Because of the sturdy tripod and the low centre of gravity, the birdbath will not tip, even with a big bird perched on the rim.
The bath is ceramic making it frost-proof. Birds need to bathe in the winter too, this is the best bird bath to leave out in all weathers.
It is deep to give the birds plenty of splashing room, it's a nice idea to place a couple of stones in to give small birds and butterflies a resting space.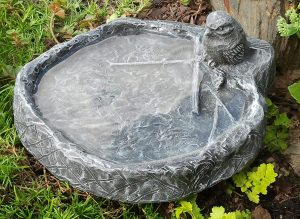 The final best bird bath review is a beautiful free-standing model. The bath is hand-crafted from solid cast stone and features a lovely little stone bird sat at the tip.
It is heavy and provides a stable landing place for all of the birds, even the bigger ones. The bath won't tip and it most certainly won't blow away in the wind.
Best feature
It has a large surface area with lots of bathing space and with a depth of 2.5cm, you needn't worry about the smallest birds being out of their depth. There are some branches carved into the design of the bowl, these make perfect landing spots for butterflies and bees.
This birdbath will enhance any garden setting and can be placed on hardstanding or gravel drives. You won't need to take it indoors during harsh winters as it is weather-proof and frost-resistant.
It is a beautiful piece of stone that is incredible value for money. When the birds have finished washing for the day, if you're really lucky, you might get a local hedgehog using it for a drink.
How do you get the birds to use your birdbath?
You've spent hours poring over all of the birdbaths trying to choose your favourite, waited days for its arrival, and placed it on the lawn, yet you're having no visitors.
Here are a few handy hints to attract our feathered friends to use their new birdbath.
Where you choose to place your birdbath is vital to attracting birds and ensuring return visits. You will need to put it somewhere that you can observe their comings-and-goings without being in direct sunlight. This will encourage algae to grow and make the water evaporate fast. Place it in a shaded area near to shelter where the bird can dash to if it gets spooked.
In the wild birds will get their water from low sources such as brooks and streams. It is best to replicate this if you want the bird to bathe and not just drink from your bath. Place it lower to the ground but not too close to bushes where cats can sneak up unannounced.
An inch or 2of water is more than enough to enable small birds to bathe successfully, any deeper deters them. I recommend placing stones in the water to add varying heights and pea shingle at the bottom gives them a good surface to grip their claws into.
The birds will spot moving water more readily. Solar pumps and fountains are inexpensive and simple to install.
Keep the water fresh, change it regularly. I do it as part of my daily watering regime. At the slightest hint of algae or droppings, you must drain and clean the bath, no chemicals, just a wire brush, and refill it. Bacteria can grow in dirty water that might harm the birds' health.
Remember that birds still need to bathe and drink in winter and you should prevent the build-up of ice on the bath. Never add any chemical to the water, you can buy a simple birdbath heater which stops you having to clear ice every day.
Final thoughts…
I top my birdbaths up every day, particularly when it is warm as the levels soon drop.
I get a great view from the back bedroom window and finds that my starlings and blackbird use the bath most, without me disturbing them.
Once you have chosen the best bird bath for your garden, sit back, relax and enjoy our friends washing and preening their feathers.