Choosing the perfect feeding setup will encourage the most popular and colourful garden birds to visit your home.
Look through our reviews of the best bird feeders available, that way you can make the most informed buying decision.
Best Bird Feeders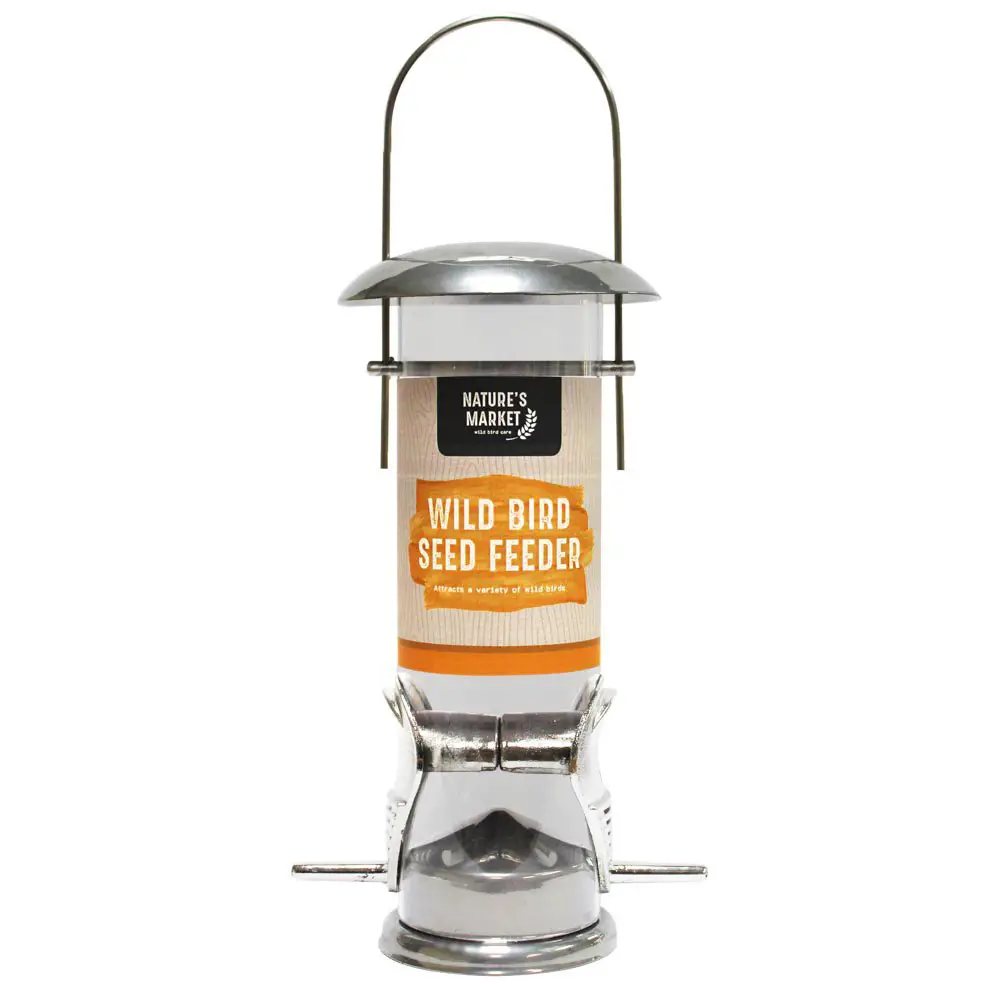 These enclosed bird feeders are absolutely ideal to feed all of the wild birds that come into your garden with any type of seed.
Made of stainless steel and very strong plastic, they will last some time and will be easy to fill and easy to clean. They look like a traditional feeder with a modern twist.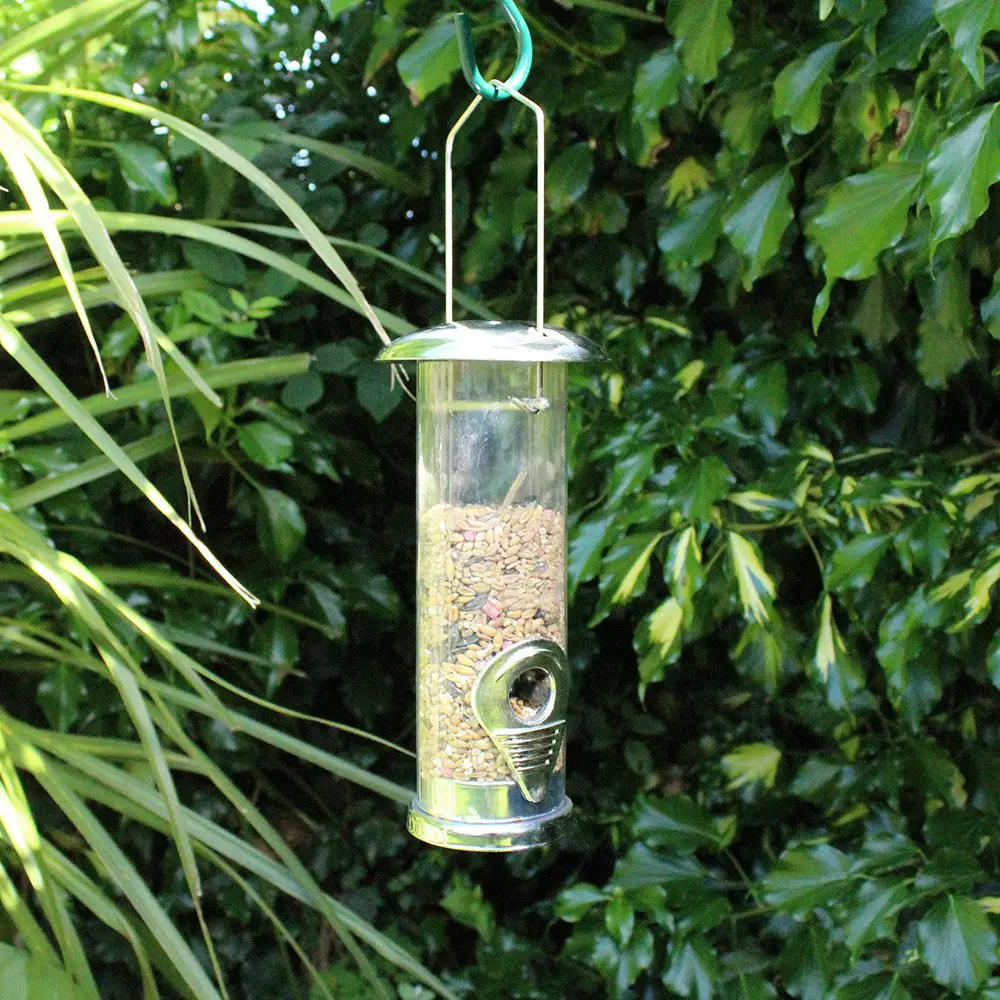 There is a perch at either side with a feeding hole, just the right size to discourage the big, bully birds and leave the small garden birds to eat in peace. The sturdy hook is perfect to hang from a feeding station or any other hook or branch.
I love the great price and the fact that 2 of these feeders are supplied.
Pros
Suitable for all seed types, even tiny niger seed
2 perches for feeding 2 birds simultaneously
Attracts small birds, keeps the pigeons away
Cons
Perch is made from toughened plastic, possibly wouldn't withstand a squirrel's weight
---
I love the finish of these feeders, they are powder coated ensuring they are weather and rust resistant, but more than that, the copper colour has a very classic look to it.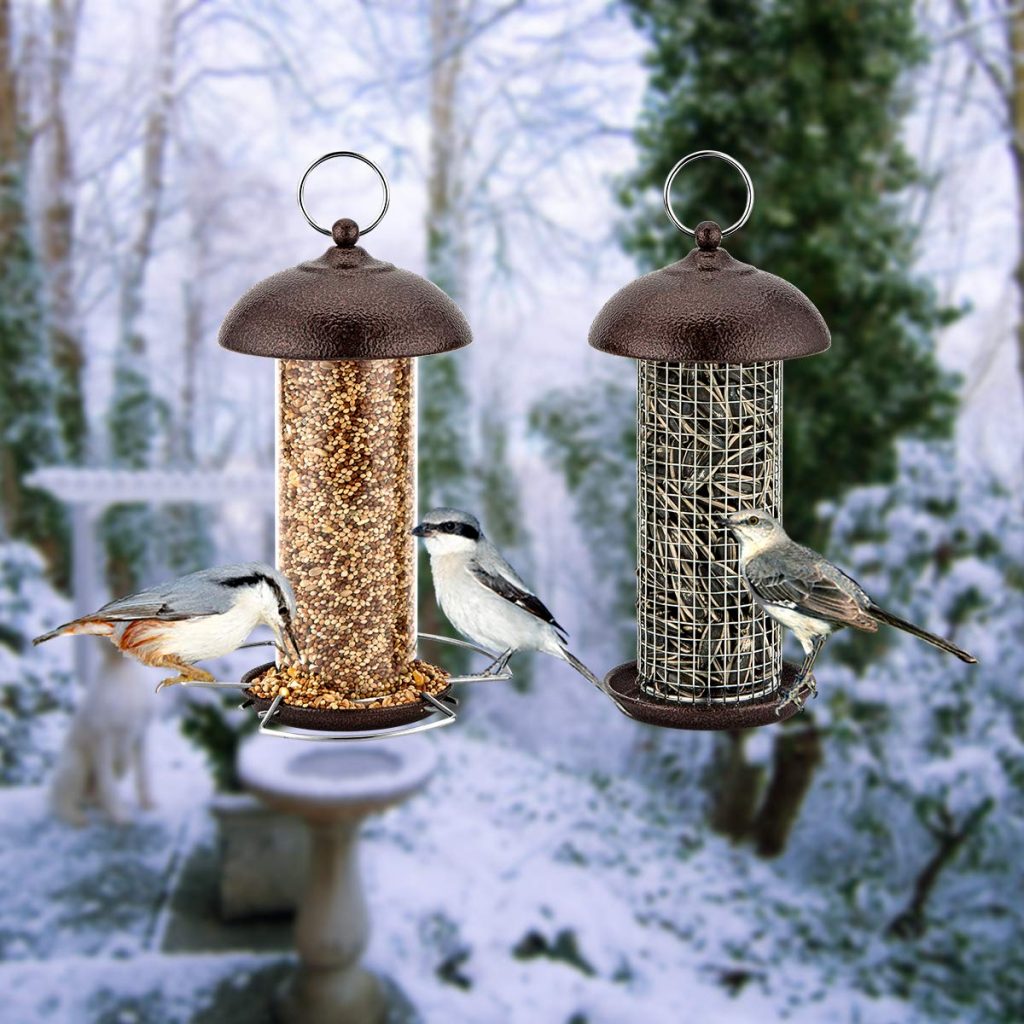 There are 2 supplied, all parts of which are made of strong metal, except for the transparent tube through which the seeds can be seen. This one is perfect for any seed and mealworms,  while the second one has a mesh tube to hold whole or chopped peanuts. You should be able to attract many varieties of small birds with this fare.
Although they're listed at mini feeders, they are both 21cm tall so hold plenty of food.
The hook fits on all feeding stations, poles, and branches. The domed cover is a nice idea, rainwater simply runs off allowing the feed to remain dry. Damp and possibly mouldy food is really harmful to our feathered friends.
Pros
Look good year round, won't fade or rust
Simple twist cap makes cleaning and refilling an easy task
2 different types supplied, great for attracting a variety of birds
Plenty of perch space to feed several birds at the same time
Cons
Suet or fat balls don't fit inside
Not as tall as others available
---
This really is an adorable lantern-shaped feeder, made from robust green plastic to blend with your garden. This plastic will give your feeder years of service life whilst being simple to wipe clean.
It really does offer a lot at a budget price. There is space for up to 8 small birds to feed at any one time, and the sloping design of the roof means the pigeons don't get a look in! It also enables the rain to just run away.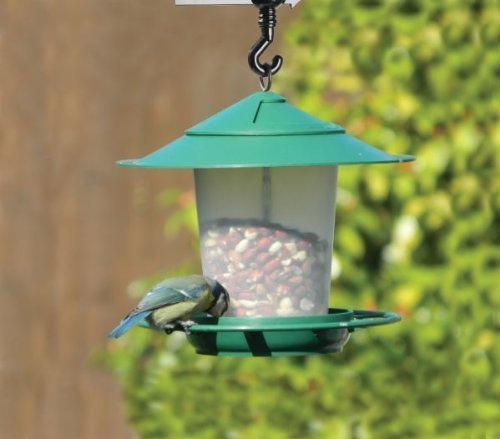 There's a sliding lid at the top to pour feed in, it is useful to use a jug or some kind of pouring spout. There is a deep trough around the bottom helping the majority of the seed to actually stay in the feeder and not spill all over the lawn.
Hang this feeder on a station or branch and see just how many small birds you can get to perch around it.
Pros
Suitable for seeds, nuts, or mealworms
Perch around the perimeter to feed several birds at once
Large birds can't manoeuvre beneath it
Cons
You may need to buy a larger hanging hook
Doesn't undo to clean inside, you have to use the filling gap to fill with water and rinse
---
This quirky little feeder caught my eye as it looks so much fun and yet still looks charming. The little house is made of durable metal and has been powder coated to enable it to last without rusting for years to come.
I like the fact that it has 2 sections, one for finer seed and the other, the mesh side, is perfect for whole sunflower seeds and peanuts. It holds over 2lbs of seed!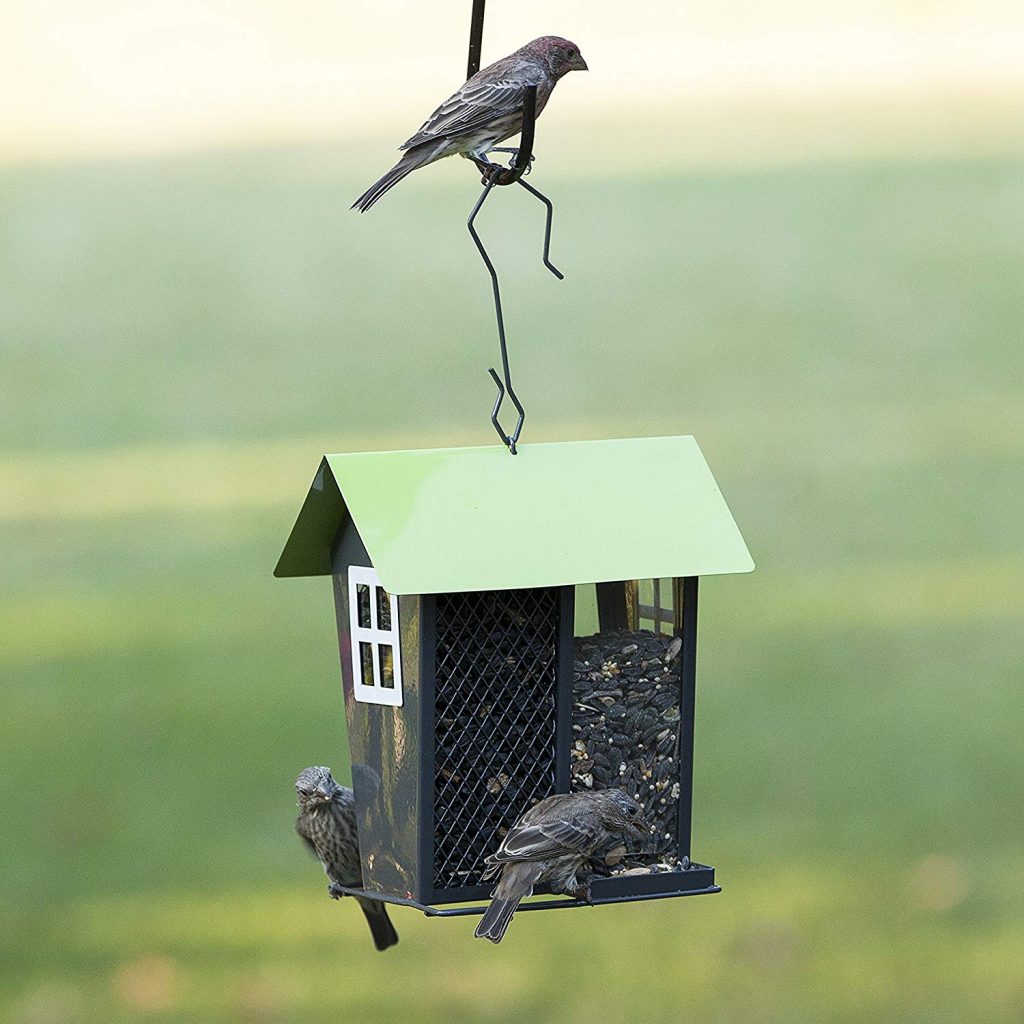 Filling it is made easy, you just lift the roof off and pop the food in either compartment. That's the best way to clean it out too, a good rinse under the tap followed by thoroughly drying.
Birds can eat from either side, well small ones can, larger birds struggle to get beneath the roof.
This is worth considering if you fancy a change from the norm!
Pros
Corrosion resistant and durable
Twin compartments to attract more varieties of bird
Simple to fill and to clean
Cons
It would be better with a perch on both sides
---
What an elegant looking bird feeder I have found for you to consider, made from thick sapphire blue glass with vintage style metal hook, perch and tray.
It definitely is eye-catching; a gift I would be happy to give or to receive.
The glass is etched with a beautiful starburst design which catches the light perfectly.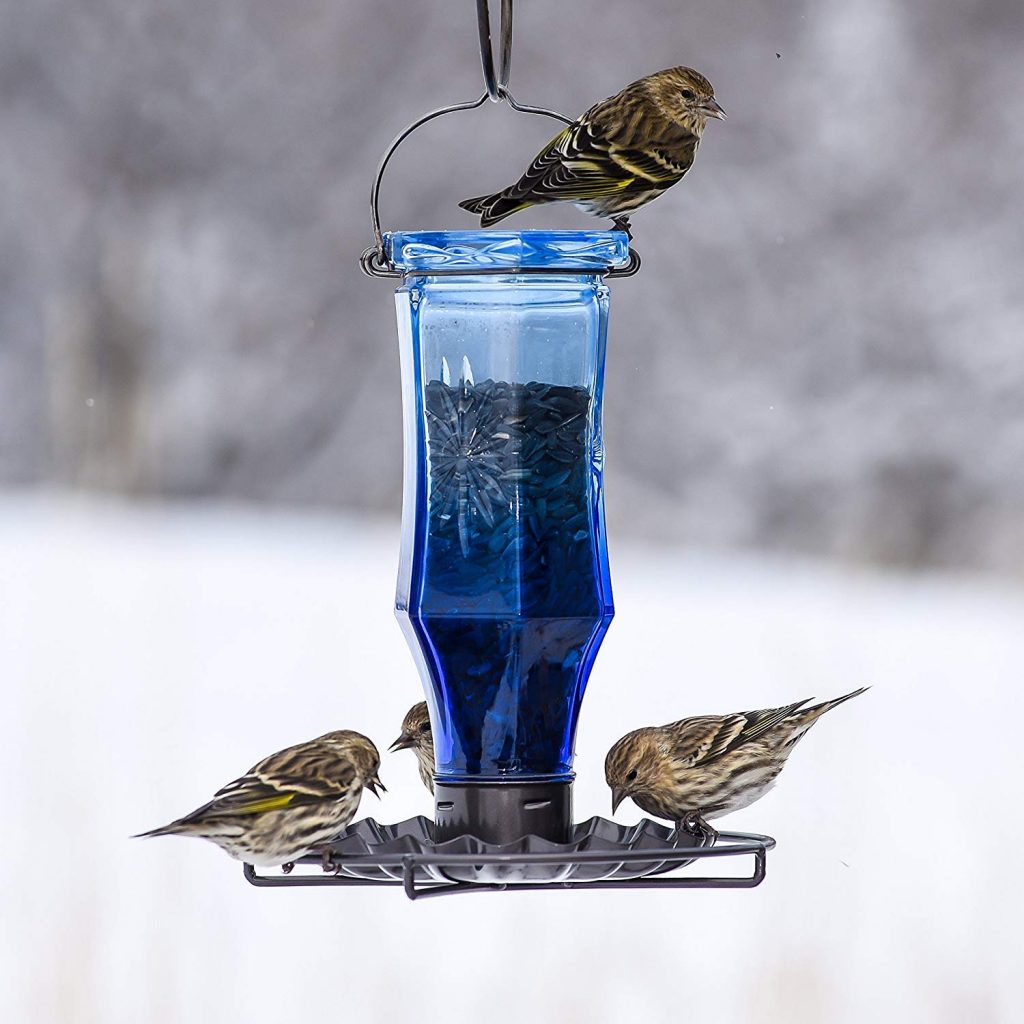 Though this feeder isn't all about good looks, it is also very practical.
The screw on lid covers a wide mouth, making both filling and cleaning simple jobs.
The tray that catches the seed at the bottom is scalloped and has tiny drainage holes in. No bird wants soggy seed! The perch wraps around the whole feeder allowing many birds to dine simultaneously. Birds can comfortably rest on top of the bottle as they form an orderly queue for the buffet.
I really love this feeder and Opus have a wide range of matching products too, water droplet and mason jars. The range is also available in Amethyst coloured glass.
Pros
Other styles available in the same range
Mess-free filling and cleaning
Suitable for all seed types, even the smallest grain
Decorative hanging hook supplied
Cons
Can get quite heavy when filled so needs a sturdy branch or hook
Larger birds can get access to the seed
---
Best Squirrel Proof Bird Feeders
If you have a squirrel problem in your garden then you might want to consider squirrel-proof bird feeders. They come in a variety of styles, caged ones that only allow small birds in, weight-sensitive ones that lock the food away when something heavier than expected lands. Some spin around and others have baffles, simple domes that prevent the squirrel's large frame from getting beneath.
I am sure you will have seen videos of the clever little creatures negotiating assault courses and still coming away with the treat at the end!
We need to be savvy when it comes to where we place feeders, remembering that from a good launch pad they can jump up to 10 feet.
I have found some of the best available for you to take a read through, hopefully, the ideal one for you is included.
If there is a squirrel in your garden not giving the small birds a chance with the peanuts, this could be the answer.
The feeding tube itself is sat inside a metal frame, the gaps of which are just wide enough to allow birds through, not squirrels! He can smell the food, he might even attempt to jump on the cage, but it is strong and secure enough to leave him frustrated in his quest.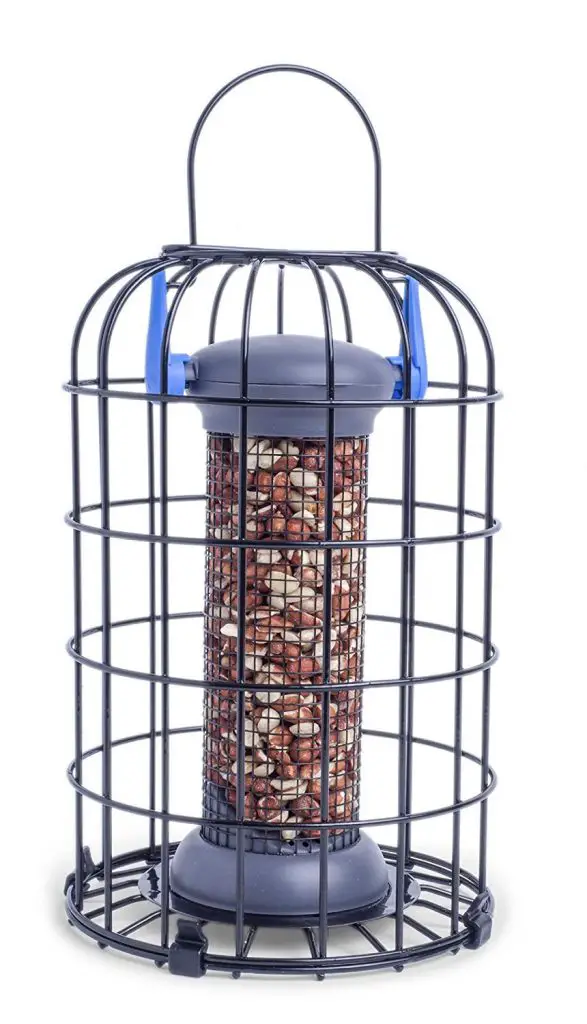 Well-designed, it has a sloped base so rainwater doesn't sit and a LokTop lid that even the Stephen Hawking of squirrels can't negotiate.
You could invest in a full set of these as Petface also makes seed and suet ball feeders in the same style.
Pros
Truly does keep squirrels and large birds at bay
Coated metal cage for rust resistant longevity
Water can't collect in the base
Cons
The base clips might be better made from metal. Truly persistent squirrels could nibble through the plastic.
---
Squirrel Buster! I love the sound of that, and so must have the 3.5 million people worldwide who have already bought one.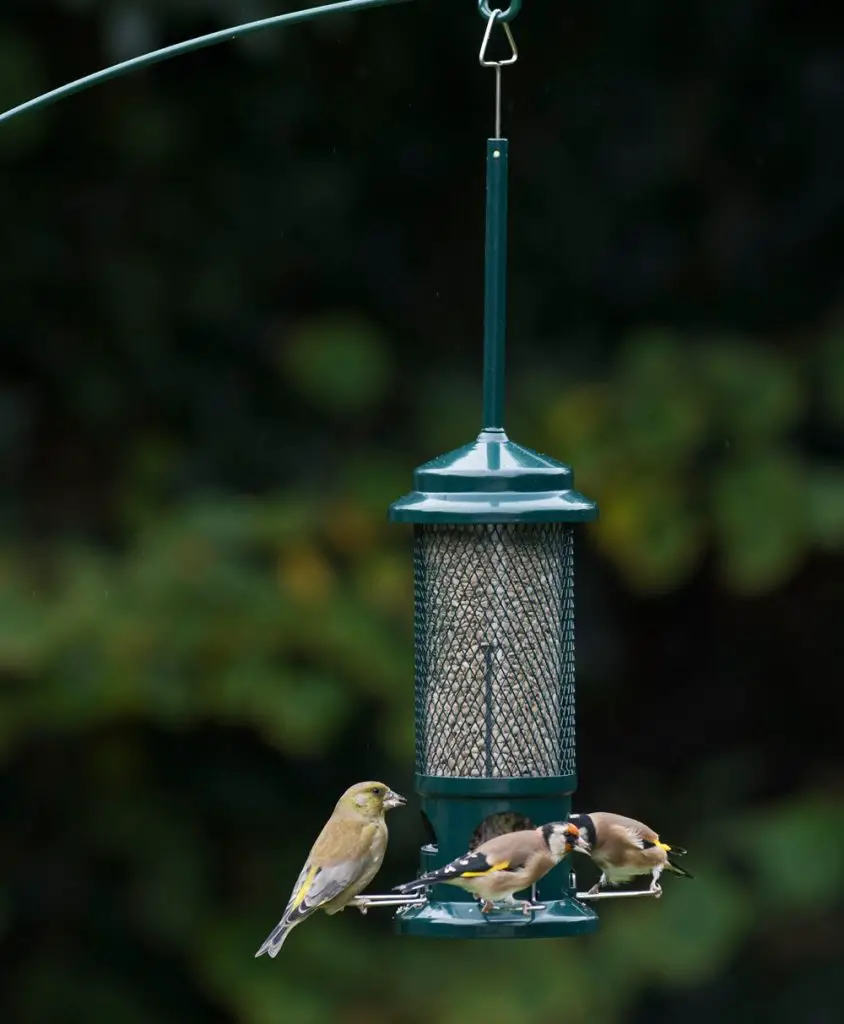 It is 100% squirrel resistant due to the special closing mechanism on the feeding ports. Should anything larger than expected land on a perch, the weight immediately triggers the door and it shuts. As long as it's hung more than 18 inches away from the nearest landing pad, to prevent the clever thing bypassing the perch and just leaning across, it will work to maximum effect.
Specially designed perches have been added for the bird's comfort and there is a seed ventilation system that keeps the food fresher for longer.
Pros
Available in various sizes for different seed types
Weighted mechanism provides 100% squirrel exclusion
Cons
Base tray could have a deeper lip to prevent seed spillage
---
If you want to steer away from the traditional tube-like bird feeders yet still have the need to keep squirrels out, this might suit you.
It is a gorgeous hanging lantern design that is available in red or blue and has 4 feeding ports. The perches are U-shaped which squirrels hate, they can't grip or get their balance on there, yet they are the preference of many birds.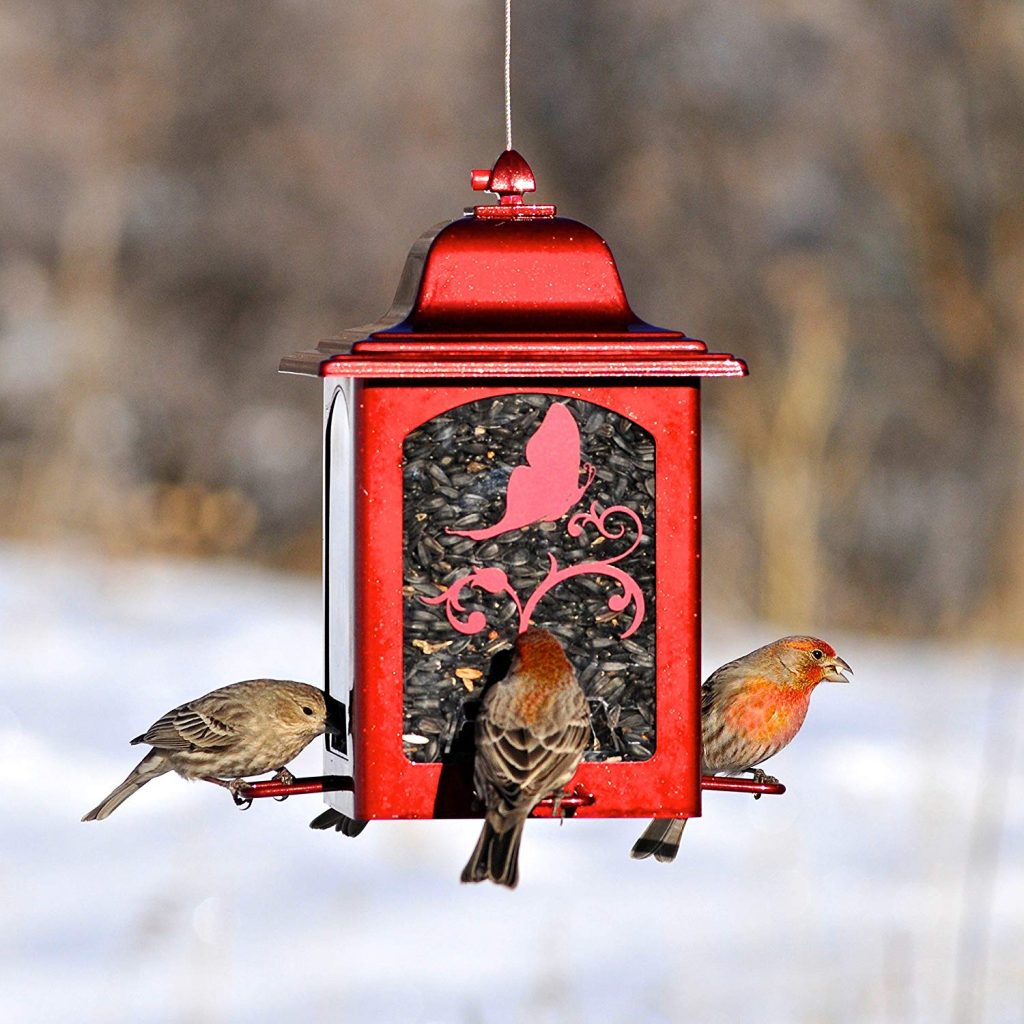 If your garden is bustling with birds, the fact that this has a 3lb seed capacity definitely will mean less work for you!
The Sure-Lok cap system keeps seed safe and dry and deters nosey claws and beaks.
This looks stylish and pretty and is also functional.
Pros
Built to last from strong powder-coated metal
Can feed multiple birds simultaneously from 4 ports
U-shaped perches that squirrels really can handle
Cons
No tray underneath to catch any spillage
---
One final return to the caged type of squirrel proofers. I couldn't resist sharing this one with you as it is such good value for money. I say 1, I mean 3. There are 3 different feeders supplied. Colour-coded depending on which type of feed should be placed in them.
Yellow – seeds, including mixed varieties, sunflower hearts, and niger
Blue –    for suet and fat balls
Red –     peanuts, and nuts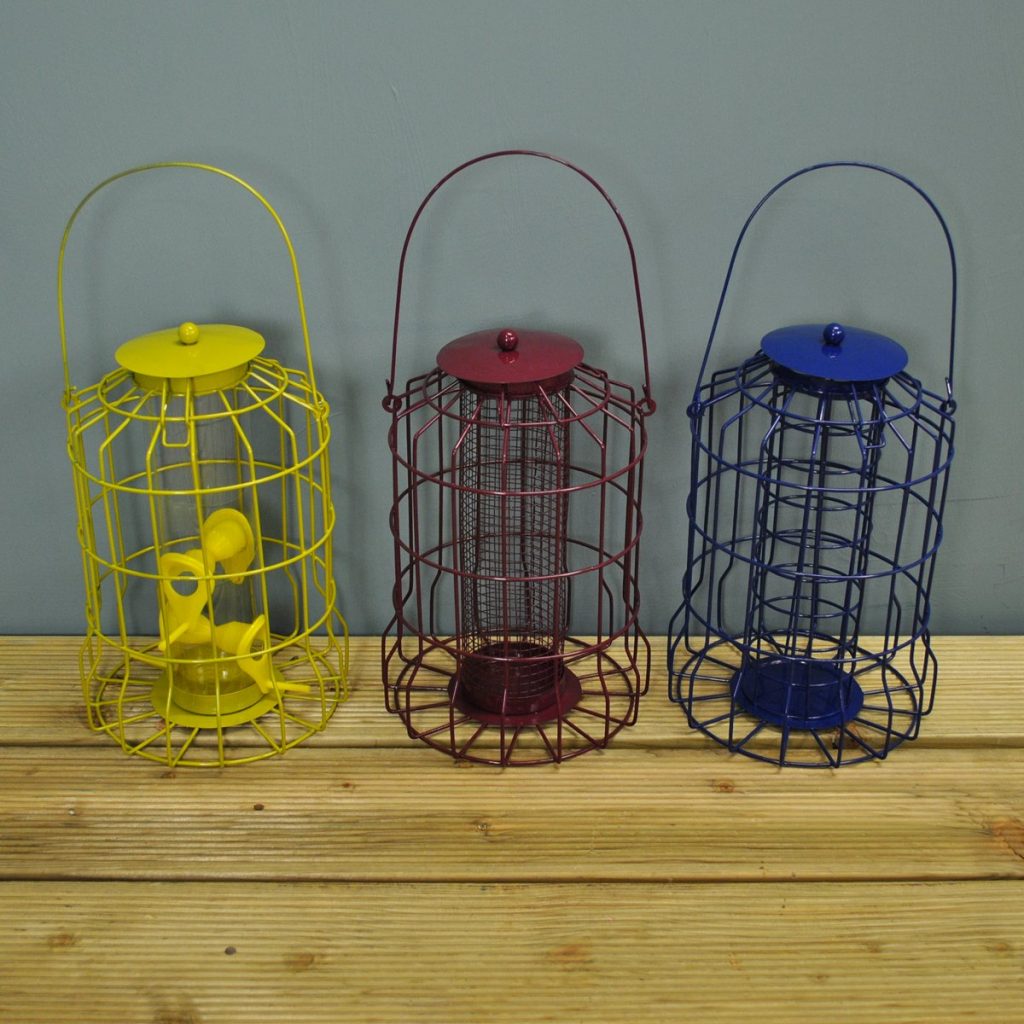 They are made from powder-coated steel which gives them great strength and durability.
They also manage to look pretty and fun.
Each has a large handle to allow it to be hung in a multitude of places, together or dotted around your garden.
The flip-top lid makes refilling them simple, yet is robust enough to keep prying squirrels out.
Pros
Great value, 3 different feeders supplied
Robust metal cage to keep squirrels out
Will attract many breeds of birds as different feeds can be used
Colour-coded for ease of recognition and to look attractive
Flip top lid makes cleaning and filling a breeze
Cons
Only available in sets of 3
---
If you not only have a squirrel issue but other large birds and pests such as pigeons, magpies, and rats, then this pest proof bird feeder could be the answer to all of your woes.
There are 2 spring-loaded perches that slide the shutter down should anything greater than the weight of a songbird land on it. Once they move, the spring releases and the shutter opens again.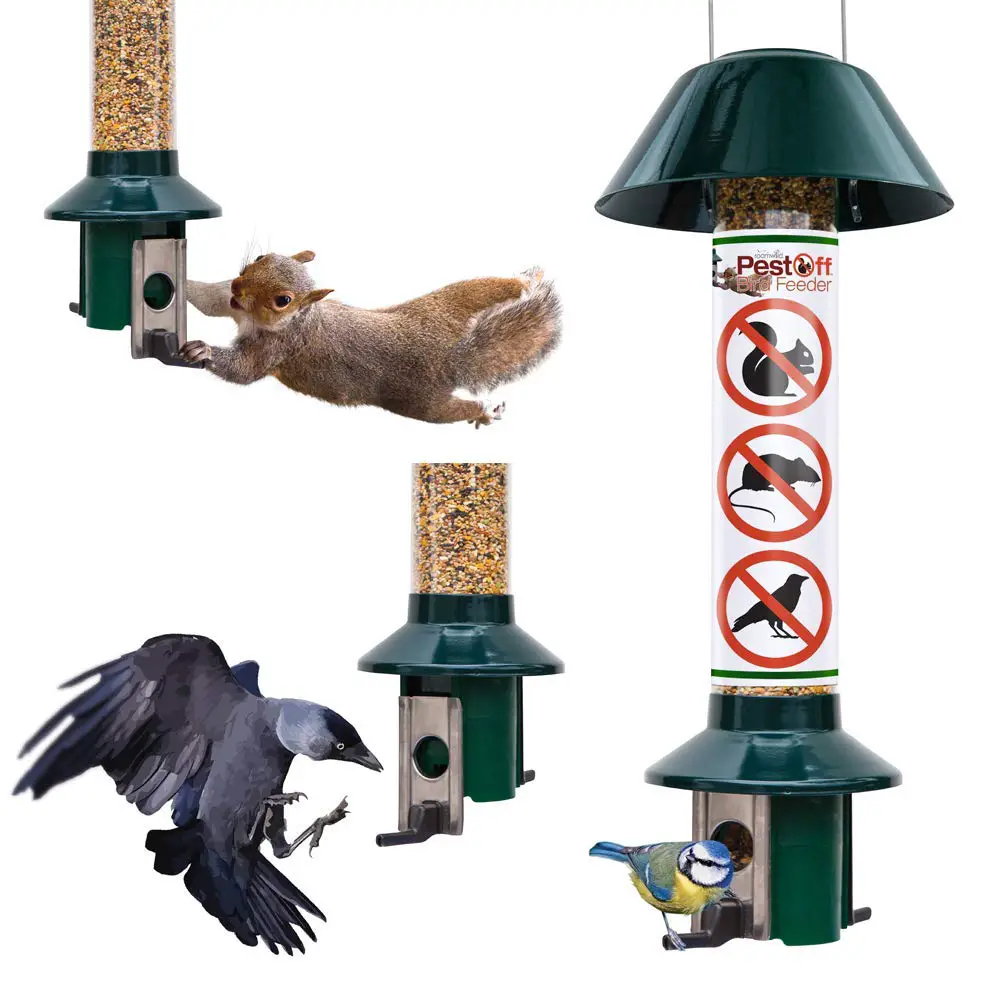 It has a domed 'baffle' type roof, making it impossible for squirrels to land on top and sneakily reach down.
There is also a rain guard over the ports, maintaining the dryness and freshness of the seed, preventing it from clogging.
This has a large capacity, 1.5l. of your chosen seed or sunflower hearts can fill it.
Pros
Nothing to be calibrated, operates via a simple spring system
Easily clicks apart to be refilled and washed
Cons
As with weight operated feeders, this needs to situated at least 18 inches from possible squirrel sites, to prevent him from leaning in.
---
Best Window Bird Feeders
This window feeder has been designed with kids in mind though I can't imagine any adult not being impressed by it. As it is circular it will almost look like a porthole so shouldn't be too intrusive.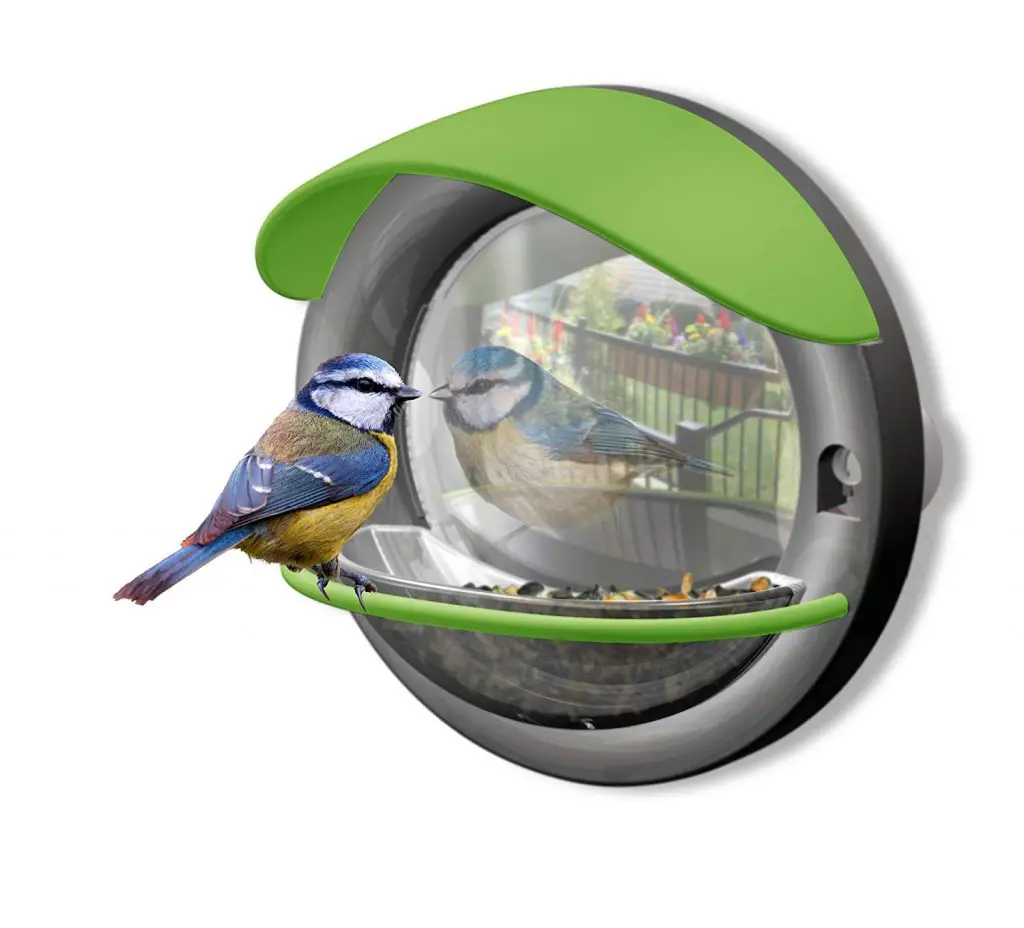 Simple to assemble and attach to the window, it features a 1-way mirror. This allows you to see the bird but he can't see you, he will carry on merrily eating away as you and the children watch on in awe.
It features a deep bowl for seed or worms and a thoughtful little cover to protect the bird from the elements as he feasts.
---
What could be better than relaxing in your armchair with a cup of tea and watching your favourite wild birds feeding just in front of your eyes?
This large window feeder makes that possible. It is made from clear acrylic and is completely see-through. So load it up with seeds and watch them flock.
The tray has 3 compartments, 1 either side for different seed types and the middle for drinking water, or all 3 for food if you have a separate water source. This tray lifts out to be washed and replenished.
The sloping roof keeps the bird and the seed protected from the wind and rain. Once the birds have discovered this, they should keep making return visits.
There are 3 heavy-duty suction cups, they really are strong and will take a great deal of force before they would come off.
---
Summary
I have tried to take into account many different criteria when choosing the best bird feeders.
Budgets obviously differ from one person to another so I chose products in different price brackets.
My main criteria are always the bird's needs. How to feed him the best possible diet whilst ensuring he is warm, safe and dry.
Us humans came a poor second! I did put some thought and consideration into our needs too, I plumped for feeders that were easy to hang and to fill. Those that are simple to wash and dry.
Not forgetting, everything I reviewed looks appealing! We spend far too much time in our gardens to hang any old thing in there. Some of these feeders are 100% functional yet to the untrained eye they look pretty ornaments.
The icing on the cake is when the garden becomes a hive of activity, full of garden birds chirping and trilling, just waiting their turn to get to your feeders.
And finally…
I have really enjoyed my time looking at various ways to feed our feathered friends.
What I have come to realise is that when you install a new feeder in your garden, patience is the key. Some garden birds are creatures of habit, and though their keen eyesight will notice a new feeder, it may take a while before they check it out. Plenty of fresh food will soon attract them and hopefully, they will make many return visits.
Also, it's worth a mention to always have a supply of fresh water available at a feeding area. Not only for drinking but the birds may wish to clean their feathers and rid themselves of any parasites.
I hope that you will have a good look around the site and realise that the way to any garden bird's heart is mostly via his stomach!
There are so many different delicacies that birds enjoy besides plain old birdseed.  You can buy or make your own suet blocks and fat balls or choose various types of seed to attract many different breeds to your garden.
Exactly how you feed the birds is where we can help. Not all birds prefer tube or mesh feeders; some prefer feeding from the ground whilst others choose to eat from a flat surface.
Have you ever tried putting niger seed into a netting feeder? It simply will not work; the seeds are far too tiny to stay put and scatter on the ground, where the pigeons will make quick work of them!