The more I watch the birds in my garden, the greater my fascination and interest grow.
Whilst the internet is fine for finding out random facts about particular species, nothing compares to watching their activity and admiring their markings and plumage at close quarters.
The best bird watching telescope is a fantastic addition to any keen twitcher, not least of all because the powerful magnification can help the user see far greater distances than any small, handheld monocular can.
When the birds have all gone to roost at night, a telescope comes into its own, whereby the user can relax with a coffee and stargaze in wonderment.
I have researched the 5 best bird watching telescopes that I feel provide the greatest opportunity to get you as close as possible to nature.
Types of Telescope
There are 3 main types of telescope;
Refractor – Uses lenses
Reflector – Uses mirrors
Catadioptric – Uses a combination of both mirrors and lenses
Refracting (Dioptric)
The most common type of telescope that relies on the bending of light.
The tube contains 2 lenses, the large front objective lens that collects the light, and the smaller magnification lens at the rear that regulates the magnification.
The lens is positioned in such a way to bend the light on entry, some travels in parallel lines, some of the rays travel more randomly. Both parcels of light are collected where they converge and form angular magnification.
These impressive telescopes easily provide 50-300x magnification, particularly when used in conjunction with the highest quality, wide lenses, and the appropriate magnification for the required application.
Basic refraction telescopes might suffer from chromatic aberration, where the image is blurred as the scope can't cope with varying colours and wavelengths.
            This is much less likely to occur in telescopes with longer lenses.
Reflector
Often the cheaper option to refractor lenses, mostly because mirrors are cheaper to make than lenses.
They consist of a 2 mirror system, 1 concave primary mirror at the bottom and a flat secondary mirror just below the aperture.
The primary mirror reflects all inbound light to a focal point, where the angled secondary mirror redirects it towards the magnification eyepiece.
Reflector telescopes don't suffer from aberration or blurriness as all of the rays of light travel at the same speed that it gets reflected, ensuring brighter and crisper images.
As the mirrors spend much of their time being exposed to outdoor elements, they require regular cleaning. This might prove an awkward and delicate task.
Mirrors are more susceptible to light pollution than lenses.
Catadioptric (Compound)
Compound telescopes are a hybrid of all the best components of refractor and reflector scopes. They are easy to use, convenient, and not as expensive as you might think.
The combination of lens and shaped mirror technology results in the highest quality optical images.
Light enters one end of the correcting lens, to reduce distortion, it is then reflected via a primary mirror to a secondary mirror positioned in the centre of the corrective lens.
From here it is directed back towards the primary lens and through a pinhole up to the eyepiece.
Adjusting the focus requires moving the primary mirror and not the eyepiece as in other types of telescope.
Poor weather and lighting conditions can have a detrimental effect on the image quality that the compound telescope produces
They perform at their best on darkest, clear nights when used for celestial adventures.
TELMU Telescope for Beginners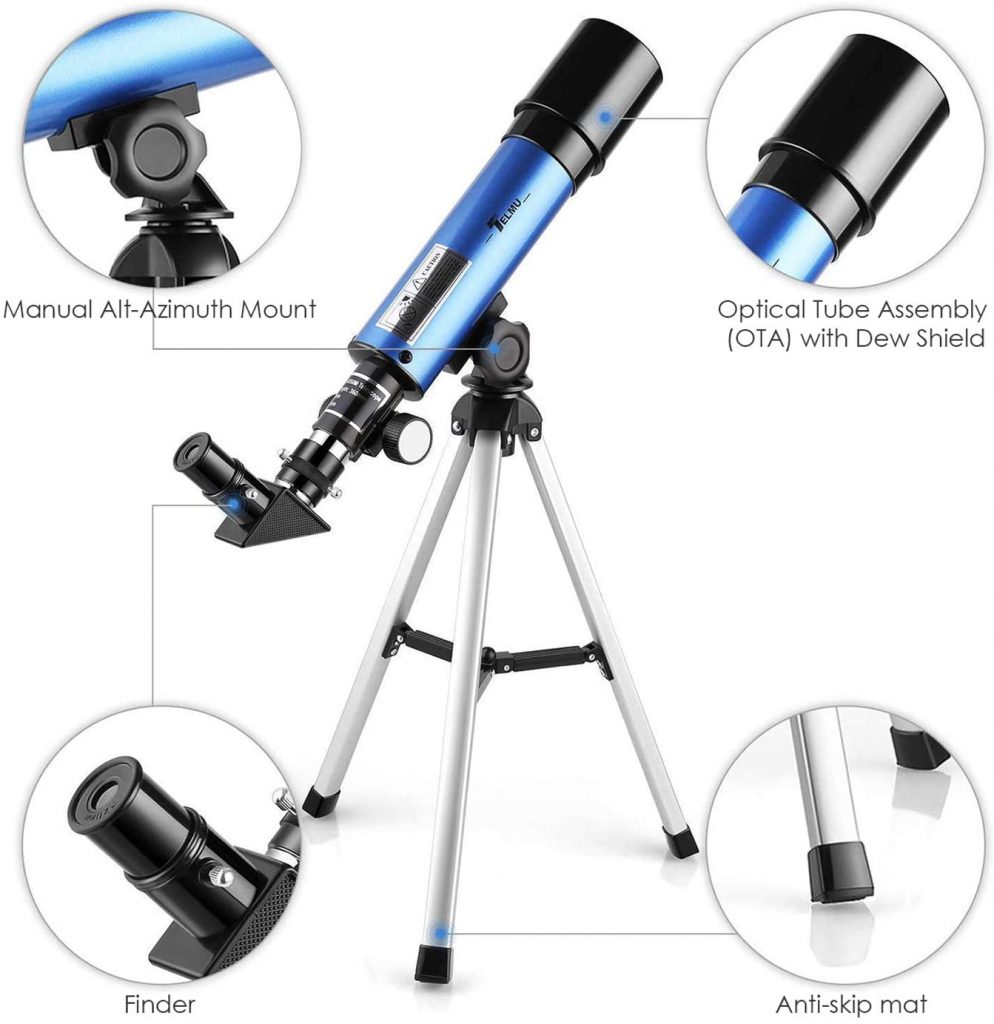 It feels right that my first review should be of an inexpensive telescope that is ideal to spark a child's interest in bird watching, scenery, and the night sky.
The telescope is compact and portable, ideal for back garden bird watching or for taking on camping and hiking trips. Assembling it takes moments and there are no tools required.
The tripod feels quite sturdy, even though it is made from lightweight aluminium, and the telescope sits comfortably on the basic azimuth wheel.
This enables it to spin freely through 180° vertically and 360° horizontally to easily keep sight of moving targets.
It is a refraction telescope that comes with dual eyepieces. The first provides 18X magnification and the second 60X magnification to help observe different objects at varying distances and sizes. The dust caps protect the lenses from fogging.
It takes a little patience to master how to get images into focus, but once the user manages it, they will be rewarded with well-magnified and detailed images.
My favourite thing about this telescope is the phone clip at the rear. This securely holds a phone in place and allows the user and a friend to watch the images on the screen. Better still, memories can be recorded as videos or photographs to keep forever.
This is the perfect telescope for kids to watch the birds. Its compact size means it can sit sturdily on a table as the kids, or adults, watch on in wonder.
ECOOPRO Telescope for Beginners, Kids, and Adults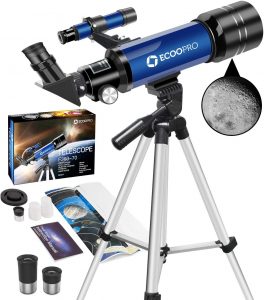 Designed for beginners, this telescope is a serious-looking bit of kit. From older children through to adults, it is the ideal introduction to birding, wildlife, and moon watching.
It has a 360mm focal length and a large 70mm aperture. This wide lens draws a great amount of light resulting in lovely bright images of high clarity.
This makes it the ideal telescope for daytime viewing.
It comes with 2 eyepieces, with a 10mm and a 25mm viewing hole. These provide magnification of 51X and 128X. All of the optical glass is HD and is coated to prevent glare and light pollution. 
The telescope clips into place easily on the Altazimuth mount to maintain easy vertical movement. The panhandle makes pointing the telescope simple and allows the user to follow moving targets and keep them in focus.
My favourite feature of this refraction telescope is its ease of use. It has a no-tool setup and is ready to go a few minutes from out of the box.
The sturdy tripod is adjustable yet lightweight, and all of the equipment fits into a neat, secure, carry case to allow for great portability on adventures and holidays.
This telescope is ideal for beginners, it even has a 5×24 finderscope to help locate objects quickly.
Celestron 21035-ADS Travelscope 70 Telescope Kit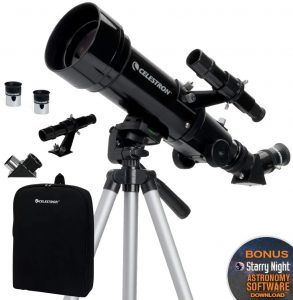 Celestron has designed an excellent telescope for both daytime and night-time viewing.
Set on a lightweight frame and with a dedicated rucksack, it is an ideal telescope for home and travels birdwatching and stargazing.
Setting it up takes a few minutes, no tools are required as each joint tightens via thumbscrews. The instructions are unusually clear and concise. The tripod is adjustable for floor or table standing. It locks into position but would benefit from being a little sturdier.
One of my favourite things about this refractor telescope has 45° erect image diagonal, this corrects the image orientation so the viewer sees it just as it would be seen by the naked eye.
It also has a large 70mm, fully-coated objective lens for crisp, clear images. It is supplied with 2 eyepieces, a 10mm and a 20mm one providing 20X and 40X magnification.
The focal ratio is f/5.71, this provides a wild field of view, perfect for scenic shots and watching large flocks of birds.
The 5×24 finder scope helps to find your target quickly, the panhandle and Alt-Azimuth mount ensure you achieve accurate pointing, smoothly at every time of asking.
The telescope is also capable of astronomy and comes with a software package that helps novices recognise constellations and planets.
This is a wonderful, lightweight terrestrial and astronomical telescope that is great for taking on trips, hikes, and holidays. It is also fabulously-priced for setting up on the garden table and watching the wildlife in the garden.
For an additional couple of pounds, you can purchase an adapter that will connect your mobile phone enabling you to take photographs of everything you view.
Moutec Refractor Telescope, 700/70mm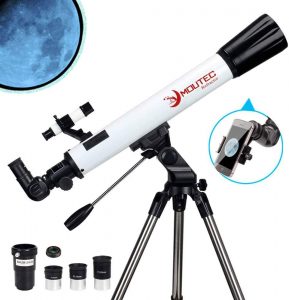 This is the first metal-bodied telescope that I have reviewed. The body and mount are all more robust and durable than the previously featured models.
Designed for adults, it is an ideal starter/intermediate telescope for land and sky viewing.
My favourite feature is the tripod. It is professional quality and extends between 31" and 46". Each leg has only 2 sections for added stability, add that to the fact that it's made from stainless steel, you are ensured that the tripod will securely grip the telescope and balance well on the floor. This frees up your hands to concentrate on the viewing experience.
It even has a small central tray to store all of the accessories.
With an aperture of 70mm and 700mm focal length, images are clear, bright, and crisp.
They are viewed through 1 of 3 Barlow lenses, providing 35X, 70X, and 116 x magnification.
There is an additional finder scope with a 24mm lens, providing 5X magnification. This enables quick spotting with its centre view, the user then moves to the full scope and uses the Alt-Az mount and panhandle to accurately home in on the sighting.
The interior diagonal prism ensures the image is correctly oriented, some more basic models provide an inverse or upside-down view.
This telescope is great for nature and birdwatching and excels for astronomical uses. The craters of the moon and Saturn's rings are visible.
Use the included star map and smartphone adapter to record videos and take photographs of all of your findings.
Bresser Nano NT-114/500 Telescope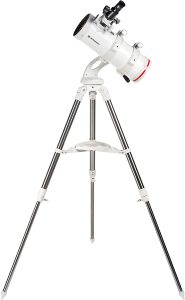 It is difficult to choose my favourite thing about the Bresser Nano telescope. Maybe its the adaptor to attach an SLR or Astro camera, or perhaps the holder and adaptor to connect a smartphone and record high definition photos or videos of your observations.
If I was pushed, it would have to be its classic good looks. It features stainless steel, robust tripod and white scope body; it looks professional and capable.
Due to its compact size, it is ideal for travel. It won't take up much room in the boot of a car and can open up a whole world of wildlife that was previously out of reach.
Delivered almost fully-assembled, all that you need to do is erect the tripod and set the telescope in place using the Alt-Azimuth mount. Operating the scope is relatively easy, but it comes with clear instructions anyhow. If you're going to use the scope for astronomy, and why wouldn't you, you will appreciate the enclosed software and rotating star map.
Getting plenty of light into a telescope is paramount, and this reflective scope manages to with a large, 114mm primary mirror. The secondary mirror is a plentiful size too, measuring 40mm you are ensured of the brightest and sharpest images possible, even at the greatest distance.
With the original eyepiece, 20X magnification is easily achievable but with the appropriate accessories, 228X magnification is possible.
With a small focal length of 500mm, the field of view is increased. This is ideal for daylight sky settings where it will keep panoramic scenes, flocks of birds, or birds in flight, completely in view.
This is the best bird watching telescope for those serious about nature, whether it be in the garden or woodland. It doubles up as an impressive piece of astronomical equipment for those times when bird activity is in a lull.
Understanding Telescopes
Choosing the best telescope for bird watching can be a minefield, particularly for a novice.
There are 5 defining features of a telescope, each of which are explained below;
Aperture
This is the diameter of the main lens or mirror, known as the objective or primary. Larger objectives allow for the increased passage of light which results in brighter, sharper images.
Larger lenses also impact on overall cost and weight.
Focal Length
This is the distance that light travels from a mirror/lens before it comes to focus on a plane.
It influences the overall length of a telescope, however, new technology has achieved greater focal length in reduced tubes.
Magnification
The second lens, known as the eyepiece, magnifies the image light that it receives from the objective. Telescopic magnification is usually between 18X and 100X.
Focal Ratio
Dividing the focal length by objective diameter results in the focal ratio.
A long focal ratio, f/10 or above indicates higher magnification with a narrow field of view.
When wider viewing is required, f/7 or below is ample.
Resolution
The ability of the telescope to distinguish fine detail.
It is directly proportionate to the aperture, thus, a 200mm scope resolution provides twice the clarity of a 100mm scope.
FAQ
What is a Barlow lens?
Named after their inventor, Peter Barlow, a Barlow lens is a diverging lens. When used as part of an optical system it increases the focal length of all of the components that come after it.
In layman's terms, a Barlow lens magnifies an image.
What is an Alt-Azimuth?
An azimuth is a style of mount used in many applications, in this particular case it is to attach the telescope to the tripod.
There are 2 axes mounts that support the scope allowing it to rotate through 2 perpendicular axes, vertical and horizontal.
It is a simple way to quickly alter the pointing direction of the telescope.
Final thoughts…
If the majority of your bird watching is done in an average-size garden, then a pair of binoculars or a portable monocular is sufficient to get you a bird's eye view of our feathered friends.
Sometimes, you want to get a close-up view of birds in flight and of their surrounding scenery. This is where you need the best bird watching telescope available.
With the best telescope that you can afford, not only will you be able to see what birds and wildlife are up to, you can spend the time that they spend resting, stargazing and familiarizing yourself with all things moon and stars.