Watching the many varieties of songbirds merrily dining at my feeders truly is my happy place. Although my knowledge is relatively extensive about their feeding and nesting habits, there is always so much more to learn I don't always recognise each species and need a closer inspection. That's where my best bird watching binoculars come into play and I can steal exceptionally close-up images without disturbing the birds going about their daily business.
To begin with, I dug my trusty old binoculars out, the ones I used for holiday sightseeing and horse racing meetings. I found those a little heavy and cumbersome for regular day-to-day use, so decided to look for the best pair of binoculars for bird watching in my garden.
There are many to choose from, so I have listed all the best ones depending on budget, from value through to premium.
Things to Consider when Choosing the Best Binoculars
Some several features and factors define each pair of binoculars and their capabilities;
Magnification
This refers to the number of times an image is magnified. 7, 8, or 10 is the optimum magnification when bird watching.
Good magnification provides
Brighter images with true colours
Better quality overall images
A wide field of view to capture birds in flight or large flocks
Comfortable to hold with a limited shake
Too High Magnification
The field of view is reduced
Darker images
Heavier binoculars, harder to steady
More difficult to focus on images in the foreground
Takes longer to achieve the correct focus
Objective lens
These are the larger lenses at the end furthest from the optical lenses, the ones you look through. The larger the diameter of the objective lens the greater the light transmission is. This means that they allow a huge amount of light to pass through resulting in light and bright images.
Between 30-42mm is ideal for birdwatching although this may depend on the size of the binoculars that you opt for.
Remember a large lens will cause the binoculars to weigh heavier and make them harder to hold steady for long periods. When watching a bird for a long time you might be advised to attach the binoculars to a tripod.
Focus
The best binoculars should have a smooth focus mechanism that lets the user switch quickly between birds in the distance and close up.
The operation should be fast and accurate hat you don't lose sight of the subject.
Style
There are 2 main styles of the prisms within binoculars that impact their abilities
Porro-prism – narrower at one end than the other and allow lots of light transmission with a large field of view. They are reliable and often available at a competitive price.
Roof-prism – More streamlined and lightweight with a slightly reduced field of view. Although they are often more expensive they are usually durable as they are weatherproof.
Size and Portability
Depending on how and where you intend to use your binoculars, you might prefer a small, compact pair. The objective lens will be less than 30mm therefore less light will flow through. Viewing quality will still be very good, though not as bright as with larger lenses. Small binoculars require little storage space and are suitable for older children to use.
Medium-sized binoculars usually have 30-32mm objective lenses, which provides a good balance of light, clarity, and focus. The extra light transmission results in them being effective in low light, such as dusk.
Standard binoculars have objective lenses of 40-42mm. With maximum light transmission comes a superb viewing performance in all lighting conditions and weathers. You should expect them to be heavier and less portable.
Eye Relief
A standard on almost all modern binoculars, eye relief enables everyone to see an equally good image even if they have to be held further from your eyes. This includes those who wear compact lenses, glasses, or sunglasses.
The 10 Best Binoculars for Bird Watching
DFlamepower Mini Compact Folding Binoculars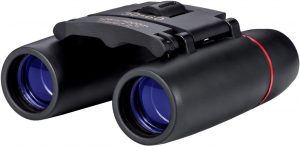 Magnification:           X 8
Objective lens:          21mm
These lightweight and compact binoculars are ideal if you're trying to get older children interested in bird-watching. However, don't be fooled into thinking they're a toy, they aren't, they are a well-made, high-quality piece of kit considering the exceptionally low price.
They have a 126m field of view which is comfortably magnified to 8 times its normal size. The generous optical lens lets plenty of light pass through to produce clear and bright images in high-definition.
The centre focusing mechanism is a nice touch; it takes moments to bring things clearly into view. My favourite feature is the diopter adjuster, a simple dial adjusts the sights if your eyes have different prescriptions and one is weaker than the other.
It is easy to adjust the width enabling them to cater for all eye distances, and the soft rubberized casing not only gives them a sturdy, non-stick grip but also ensures they are comfortable to look through.
The binoculars fold and become just 2.4" across. They can be easily slotted into a pocket, or you can use the supplied lanyard to hang them around your neck, after all, they only weigh 162g. They also have a cleaning cloth and a sturdy carry case included.
These are perfect budget binoculars for bird-watching in the garden whilst remaining portable and durable enough to use for many other applications.
HD Compact Binoculars from Teaisiy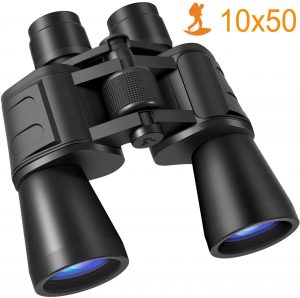 Magnification:           X 10
Objective lens:          50 mm
These are a substantial pair of binoculars that come with plenty of accessories, there are a set of covers for both the optical and objective lenses, a sturdy carrying case, a neck strap, and a lens cleaning cloth. There is also a very clear set of instructions provided.
The binoculars are lightweight at a little over 700g, so are ideal for older children and adults alike. Gripping them is easy, there are tiny bumps in the ABS-plastic, ensuring they stay firmly in your bands.
They combine BAK4 prisms with FMC coated lens to provide high-definition images with reduced reflection and zero glare. The images have crisp edges, and due to increased light transmission through the objective lenses, the images will be bright with rich and true colours.
My favourite thing about these binoculars is each eye has an individually adjustable focus, so even if you're eyes are different strengths, you will get a clear image even without your glasses on. There is also a dual focus dial to quickly bring birds at a great distance into clear focus.
They are German-engineered which virtually guarantees a good, reliable build.  They are substantial and can withstand all of the harshest weather conditions.
Powerful magnification brings the birds 10 times closer than with the naked eye alone, even in a dull and dusky light. From a thousand metre distance, you will have a 138m field of vision.
These are perfect binoculars for keeping an eye on your feathered garden visitors, or for taking out into the countryside. 
Mahauk Compact Binoculars for Adults & Kids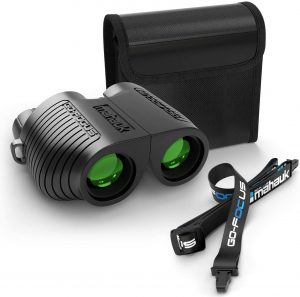 Magnification:                       X 10
Objective  lens:                     25mm
These binoculars have inbuilt auto-focus, making them ideal if you're a novice with binoculars or a technophobe!
They are mechanically operated and require no batteries. The technology within the binoculars allows the user to point and go. Even in fast-moving situations when you are trying to keep the flight of a bird in focus, they stay in focus. The image remains crisp, with great clarity and no blurred edges. This has to be my favourite feature.
Their working range is optimal between 20 and 1000 m, so they might not be the best bet if your garden is quite small. However, at distances of greater than 20m you are rewarded with impressive views of images at 10 times magnification.
The  BAK4 prism with 25mm lens allows plenty of light passage, more light encourages brighter images with sharper clarity. With a long field of view of more than 110 m, you should get an amazing close-up view of birds even from 1000m away. They are effective in lots of light conditions, even as the sun settles. Even at night, you will be able to magnify objects in the distance that are illuminated.
They are compact and portable, they weigh 231g and are hardly noticeable when hung around your neck from the supplied strap.
They are quite a chunky design which is particularly easy and comfortable to hold. They are durable, no moisture, dirt, or dust can make its way inside the sealed casing. They are a great pair of mini binoculars that fit in a pocket or bag when you're not using them to watch birds in the garden.
BRIGENIUS 10 x 50 Powerful Binoculars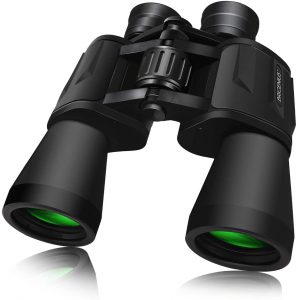 Magnification:                       X 10
Objective lens:                      50mm
This is the first pair of full-size binoculars to feature in our reviews, and an impressive set they are too.
Although they are larger, they are still lightweight enough to be comfortable to hold for long periods, they weigh just 1.75lbs. They are solidly constructed from a mix of environmentally friendly leather and textured rubber. Not only do they look good, but they feel it too. They are easy to grip, the texturing gives them an anti-slip quality.
The 50mm objective lens supply superior light transmission resulting in bright and clear images of very high contrast. The field of view is 367ft, this enables the user to see wider images at a distance very clearly, even fast-moving objects stay in focus at all times. The 10 times magnification really does show the intricacies and fine details, particularly of a bird's plumage.
Focusing is simple, the dial sits near to the right eyepiece. The adjustable diopter means the user can rectify the imbalance between their eyes, individually. Even glasses wearers can see comfortably through the lenses.
In poor light conditions, you will still see high-definition images. Multi-coated, aspherical lenses ensure that images are free of distortion and full of natural colour.
My favourite feature has to be the great low price. The binoculars look like they should cost a great deal more. They have plenty of accessories, including lens covers and a carry case, and are solidly built and durable.
Eyeskey HD 8×42 Binoculars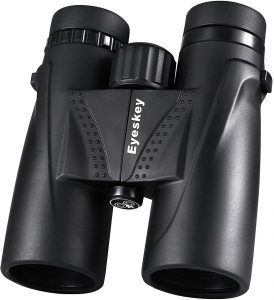 Magnification:                       X 8
Objective lens:                      42mm
A wonderfully compact pair of binoculars that perform equally as well as, and sometimes better than, some of their much more expensive counterparts.
Although they are lightweight, they feel substantial. Just by holding them, you can tell they are very well made. The rubberized, armoured body gives a comfortable grip and added protection. They are shockproof and weatherproof, so there are very few conditions that you can't use them in.
The O-ring seals the body to ensure the binoculars are both fog and waterproof.
All 4 of the lenses have a cover to keep them dust-free and safe from harm when not in use.
The large objective lens is responsible for an exceptional amount of light transmission, resulting in a more natural, clearer view. The multi-layer coated lenses, with BAK-4 prism technology, ensure colours are reproduced accurately and no light is lost through reflection.
My favourite feature is just how easy the binoculars are to use. The central dial requires a gentle turn to bring the birds into perfect focus whilst twistable eyecups provide the ideal relief for supreme comfort. Spectacle wearers needn't remove their glasses to achieve a comfortable viewing experience.
They are streamlined and ergonomic, both things are a bonus when you might need to hold them up to your eyes for long periods. If the strain becomes too much or you can't steady the shake, there is a port in the bottom to attach them to a tripod.
These are a wonderful pair of mid-range binoculars that come with a lifetime warranty.
Nikon Aculon A30 Binoculars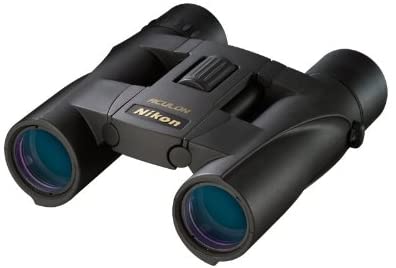 Magnification:                       X 10
Objective lens:                      25mm
Anything that has a lens and the name Nikon emblazoned on the side is bound to be good quality. These compact, foldable binoculars are no exception to the rule, they are a lightweight and portable set that is ideal for birdwatching and a multitude of other experiences.
My favourite feature has to be the impressive viewing capabilities. Multi-coated lenses and a prism system combine to provide wide, detailed, and beautifully in-focus images. The manual focus dial allows the user to fully adjust their view and bring it up to optimum clarity whether they're viewing something as close as 3 metres or doing a bit of stargazing.
The eye width is easily adjustable so they're comfortable for people with different shaped faces, and the eye relief is longer too. When combined with the softer rubber coating, they are comfortable for holding for longer periods.
The field of view is 105m, that is a nice wide range to capture large areas, particularly useful when following a bird in flight, an animal on the move, or a vehicle as it passes.
The silver body gives these bird watching binoculars a modern twist. The soft carry case keeps them protected from harm, and the objective lens covers prevent the glass from being scratched. Talking of which, the lenses are made from eco-glass, optics that are good for the environment and safer for the user.
The Nikon Aculon are my favourite mid-range binoculars for view-quality, performance, and portability.
Olympus DPSI Binoculars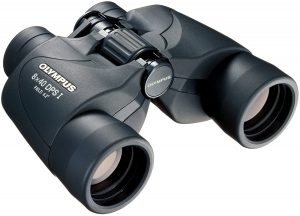 Magnification:                       X 8-16
Objective lens:                      40mm
Not many companies offer a 25-year warranty on their products; Olympus must believe in the performance and quality of their binoculars as that is exactly what they have done.
Sure-grip rubber makes them comfortable and safe to hold. The build quality is excellent, they are well-constructed and very easy to use. The central focus dial is simple to operate and allows the user a bright and precise view within seconds.
My favourite feature has to be the adjustable zoom. With a flick of a lever its possible to switch from 8 times magnification to 16 times. This gives a much more detailed view without losing any of the image clarity. It is to be expected that the field of view becomes slightly narrower when compared to binoculars with single magnification, but it is still an impressive 400-545ft. They are ideally suited to fast-moving objects.
The zoom lever would be better served if it were metal and not plastic, but it works very effectively and is a nice option to have.
The lenses have multiple coatings to enable clear, distortion-free viewing. They are anti-reflective and also have a UV layer to give your eyes protection from the harmful sun's rays.
Built-in dioptric correction automatically adjusts the lenses to match with your eyesight, there are no fiddly buttons or dials to worry about.
I love these binoculars for so many reasons, the look great and will withstand tough conditions. The large objective lens size creates bright images, whether you're looking at objects 10 metres or hundreds of metres away. The zoom function makes them the best binoculars for bird watching in large gardens and open woodland.
Slokey 8×32 Professional Binoculars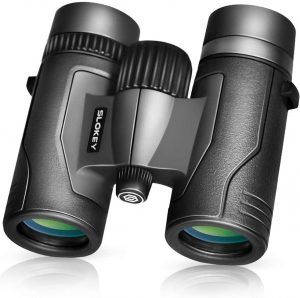 Magnification:                       x 8
Objective lens:                      32mm
If value for money is high on your list of priorities when choosing the best binoculars, this pair from Slokey are worthy of serious consideration.
They provide equivalent professional performance at a fraction of the price of some of the high-end brands.
Casual bird watchers and ornithologists alike will benefit from owning these binoculars; their incredible luminosity provides amazingly bright, clear, and sharp images. Birds in trees or flight a couple of hundred metres away appear very close and it's easy to pick out fine detail.
Bringing images into focus is easy, the focus wheel moves smoothly and is very responsive.
If you are going to be watching the birds for a great length of time, there is a handy adapter on the underside to connect the binoculars to a standard tripod.
A nitrogen layer is added in construction; this makes the binoculars completely waterproof and fog proof. They are tough and durable enough to withstand the most extreme weather conditions and are covered by a lifetime guarantee for added peace of mind.
My favourite feature has to be just how powerful these binos are, even though they are so compact and portable. Weighing just 430 grams, they are ideal for using for long periods and the easy grips make them comfortable to grip.
These binoculars have a 125-metre field of view, all of which can be seen with crystal clear clarity, with high contrast levels and beautiful depth of colour.
They honestly rival pairs of binoculars that cost 2 and 3 times as much.
Nikon Prostaff 7S Binoculars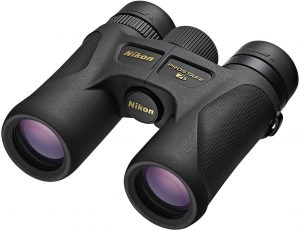 Magnification:                       X 8
Objective lens:                      42mm
This is the second pair of Nikon binoculars to feature in my reviews, they are too impressive to miss out. Nikon has a long and proven track history of excellent optical technology.
This set relies on phase correction coated roof prisms. When combined with large 42mm objective lenses, they create the highest resolution images, with incredible brightness, more so than watching with the naked eye alone. Colours are reproduced with exacting accuracy and depth even in poor light conditions. This is their best feature enabling them to rival top-of-the-range pairs of binoculars.
They are made from very durable reinforced fibreglass that is covered with armoured-rubber. Not only does this keep them very lightweight, but it also makes them tough and incredibly hard-wearing.  They are shock-resistant so will survive many knocks and drops, and as they're nitrogen-filled with an O-ring seal, they are guaranteed to be waterproof and fog-proof. After all, no-one wants their lenses to mist up just as they spot an incredibly rare bird.
They are comfortable to hold, the rubber is soft and the side indents with raised dots ensure they fit snugly in-hand with no fear of dropping.
The eye-relief adjusts easily with a turn and slide action. This makes them comfortable for those that wear glasses, sunglasses, or contact lenses. The focus wheel has a smooth action and is easily adjusted to bring birds into focus from as close as 4 metres to hundreds of metres away. The wide, 119-metre field of view enables the user to scope birds in flight and follow them with a clear and precise view.
These are an excellent pair of binoculars that are compact and portable enough to carry on various trips. They have a sturdy case, long neck strap, and covers for all 4 of the lenses.
For the serious bird watcher, these are the best binoculars for exceptional brightness and crisp, sharp-edged images.
Pentax SD WP Roof Prism Binocular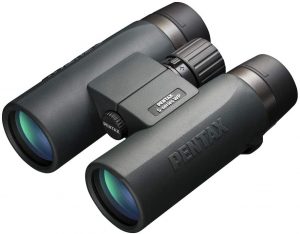 Magnification:                      x 8
Objective lens:                      42 mm
If you're wary of using full-size binoculars because of their weight, take a look at what Pentax has to offer.
Their polycarbonate housing of the SD model keeps them weighing a very comfortable 615 grams.
Their best feature is hard to choose, there are so many. Each element of the binoculars interior is treated with a multi-layer coating. This includes each of the roof prisms and both sides of all 4 lenses. This has many benefits, including superb brightness, colour rendition, and crystal sharp images. Coated optics maximise the amount and the quality of the light that passes through, resulting in beautiful images with no flaring or ghosting.
There is a further layer that is added, a nano-technology coating that protects the elements from water, oil, dust, and dirt. Along with nitrogen purged layers, this not only makes the binoculars waterproof but also makes them the best pair of binoculars to use in the worst elements and conditions.
The roof prisms employ BAK-4 technology, to suppress reflections and shadows. Even in low light conditions, you will achieve crisp and clear viewing results from as close as 2.5 meters away or hundreds of meters in the distance. They even give great results when used for stargazing on bright, clear nights.
Pentax has made a very impressive, professional standard pair of binoculars which out-perform some of the industries best most expensive models. They are user-intuitive, comfortable, and provide the best close-up viewing image imaginable.
How Binoculars Work
Binoculars rely on light to work. They capture it, then bend it, and slow it down to bring the things you see in the distance closer to your eyes.
Light refraction
Light enters a tunnel and hits a lens. The size and shape of the lens determine the direction and quality of the light. It hits the lens, bends, and slows down.
Focal Path
Light takes the shortest path to the nearest focal point, this is the optical lens where the light is captured and magnified.
Telescopes work in the same method but their long body provides a longer focal path and their increased magnification.
Prisms
2 types of Prisms improve standard binocular function
Porro – 2 triangular prisms within the binoculars encourage light to bounce between them, lengthening the focal path, and therefore improved magnification and superb clarity.
Roof – Several roof prisms encourage the beam of light to ping pong across them. These much elongated focal path results in greater magnification but not quite as much clarity or brightness as the Porro prisms.
Final thoughts…
The best binoculars for bird watching should have between 8 and 10 times magnification and a 30-42mm objective lens. That way you should not only be able to spot, identify, and admire many bird species, but you should easily be able to follow them in flight.
Garden bird watchers should only need a compact pair to see our feathered friends in great detail. Those more serious ornithologists should consider a more powerful pair to get the best optical experience imaginable.