Birds are surrounded by folklore and myths from time immemorial. Most cultures have bird-related superstitions mainly stemming from the belief that they are message carriers sent from God or our ancestors. Many customs believe that birds and fate are closely intertwined.
With this in mind, and the fact that I have just spotted one of my most regular garden visitors, I wondered, are blue tits good luck, or are they just beautiful to look at?
Sailors have a particular fondness for blue tits, believing that they not only bought them good luck but were also a welcome sign of home.
The blue tit is a very spiritual bird, closely linked with love, hope, and faith. Although there are very few good luck stories, they are synonymous with all things positive and happy.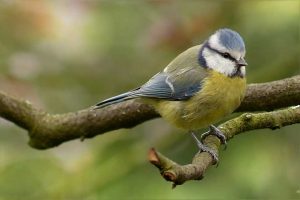 Why sailors thought that blue tits brought good luck
Blue tits rarely stray far from their territory; they are sedentary birds that don't migrate.
Weary sailors that had been at sea for weeks and months delighted at spotting one; the land was close by, they would soon be home safe.
Sailors also felt blessed if blue tits pooped on their boat; it was a sign that things were looking up and better times were ahead.
However, they knew never to clean it away until the next rainstorm had passed. Sailors believed that this wiped away the good luck and replaced it with bad luck.
Blue tits and their links with love
As a monogamous bird, faithful to one solitary mate, the blue tit has become a symbol of love and faithfulness.
For instance, Celtic beliefs state that spotting a single bird, alone in a field dictates that you will have one long-lasting relationship in your life.
Those lucky enough to see a lone bird in flight should be prepared; new love is on its way to you.
Men with a blue tit tattoo will never wander too far from his soulmate. If he should, don't worry, just as the bird does; he always returns to his one true love!
Blue tits tapping at the window
This is one myth that I can get on board with, it is neither startling nor silly.
Bird behavioural experts tell us that a bird tapping at the window is defending his territory against a predator – their reflection in the glass.
Superstition has it that it is a reminder of something or someone overlooked or a task that isn't complete.
I am sure that a blue tit tapping at my window would make me sit up and take notice; halting my busy day for a period of reflection.
Do blue tits ever bring bad luck?
It is widely believed that any bird that flies into your house signifies imminent death for one occupant. I am not overly superstitious and think it means they lost their way and can't get out!
The belief that seeing a blue tit whilst in meditation might mean that your relationship is in peril and requires work to strengthen it.
Is bird poo lucky?
Even the sceptics among us that have been blighted with bird poo on their head, surely said, "oh well, it's good luck", just to make themself feel better about the situation?
And legend has it, that they're right. Blue tit poo is a sign that you're lucky, the chosen one, even if you wipe it off immediately, the good fortune isn't wiped away.
Final thoughts
Our friendly blue tit is a loyal and loving creature that carries centuries of myths and superstition.
They are a sign of loyalty, friendship, and faithfulness. Whether you believe blue tits are good luck or not, it's a comforting thought knowing what decent characters they are.