Unfortunately, Greenfinches are in rapid decline. Lots of work needs to be done to support Greenfinches as some scientists believe they may be heading for endangered status. The decline in population by 59% in the 10 years up to 2016 was caused by a disease called Trichomonosis.
Trichomonosis
Also known as canker, this disease made a notable appearance in the UK in 2005. It is mainly caused by parasites contaminating water and food. It is believed that the bird tables and bird baths around the UK contributed the majority of the infections.
The outbreak in 2005 was followed by more outbreaks in 2006 and 2007, this caused Greenfinch numbers to drop by an alarming 59% in the 10 years up to 2016. Numbers are still dropping year by year up until 2020 but are showing signs of slowing.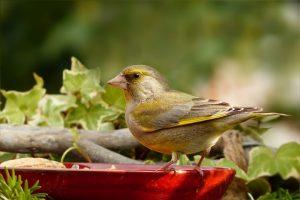 How many greenfinches are in the UK?
It is difficult to be specific on Greenfinch numbers, but estimates placed the Greenfinch population at approx 4.3million in 2005, the 60% decline means the population was circa 1.71million in 2016.
There is a great source for specific data and numbers here.
What can I do to help numbers?
It is important to provide clean water and food for Greenfinches. Diseases are easily spread amongst populations of the birds through dirty bird baths, pond water and bird feeders. By washing them out correctly and not allowing them to become infected, you help to prevent spread of the disease.
Putting out food that attracts Greenfinches will also help, we have a great article on what to feed Greenfinches here.
If you happen to see a Greenfinch in your garden, be sure to take photographs and continue to do what you are doing right, it is very important to see their population increase once more.