I am never happier than when watching the bird activity in my garden, so much so that I often lose hours and let meals go cold! Yet, even with such devotion, there are occasional visitors to my garden that I don't recognise.
That's where the best bird watching logbook comes to my assistance. It contains clear illustrations and information about virtually all of the 250 plus common garden birds found in the UK.
It also has a checklist; mine is mapped out month by month. It's interesting to log each species and compare their frequency throughout the year.
I've put together a list of the best bird watching logbooks currently available. They are ideal for giving as gifts to like-minded people or to pique the interest of others, especially children.
Bird Watching Log Book: Birding Journal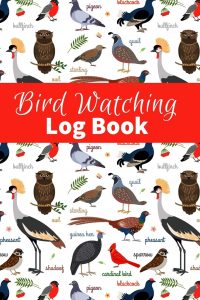 This handy 6 x 9″ logbook has 125 pages bursting with fun facts and statistics about all of the garden birds common to the British Isles.
My favourite feature is the simple index; it directs you quickly and accurately to each bird, whether you want to find out some more information, or you need to identify a species.
There is plenty of space to record all of the latest sightings, any unusual behaviours or breeding activities. The ingenious way that the book encourages you to record every last record ensures you have a diary to refer back to from month to month or year to year.
The logging pages have spaces to write species, times, and habitats of each sighting.
If you're unsure of a bird, refer back to the guides. The references should be able to help identify it from its size, colouring, or identifying marks.
This is a handy, paperback book that makes bird watching more interesting and exciting for people of all ages. With all of your newly acquired knowledge, you will undoubtedly improve your skills and ease of bird recognition in no time at all.
Bird Watching for Kids: A Guide and Journal for British Birds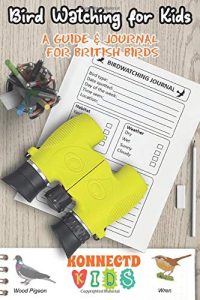 I can't think of many better ways to involve children in your love of the birds than by gifting them this book.
It is written in a way that is easy for children to understand, or if they're slightly older, to read for themselves. It isn't patronising, just interesting and informative.
Some pages talk about the bird's body parts and how they differentiate between species. For instance, my neighbour's daughter was fascinated to know that beaks are different shapes and sizes to give birds the best opportunity of catching, opening, or reaching their favourite foods.
There are clear diagrams to help identify the most common birds, there are even some pictures to colour in following the colour guides, what better way to help a child recognise each species?
There is plenty of information for each bird, including their behaviour, song, and habitat.
Finally, my favourite section, the journal.
Each page has plenty of space to record the details of each sighting, including the type of bird, where and what time of day it was, even what the weather was doing.
I love this book, it is the perfect way to help kids familiarise themselves with our feathered friends and hopefully, encourage a new hobby.
Bird Watching Log Book: Through the Seasons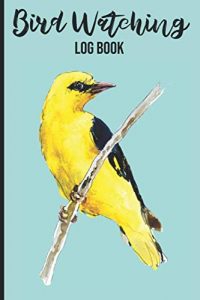 This Is a lovely little paperback logbook, ideal for birdwatchers with all levels of experience to record their bird sightings.
My favourite feature is the season dividers, so not only can you record bird activity at different times of the year, it is very easy to refer back to.
There is space to fill in huge amounts of detail for any bird. Although it isn't an actual guide, it can be used in conjunction with a field book to help you put a name to a particular species that is new to you.
Use the designated pages to jot down as much detail as possible; this is easier if you're watching through binoculars or a monocular. The book prompts you to record things that you might not necessarily think of, such as main and secondary colours, beak type, the sound of their song (always my favourite to try and write)!
Then you can refer back to a guide at your leisure.
Other pages have space for time and weather condition of sightings, where you spotted them and what they were up to, for example, bathing/eating/nest building etc.
Gathering all of this information gives you great insight into the diets, lives, and behaviours of our feathered friends.
The rear pages are ideal to draw sketches and add photographs of your favourite birds.
RSPB Pocket Garden Birdwatch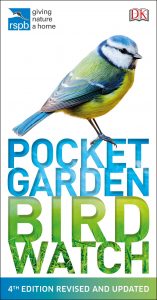 This is a concise book that is an excellent source of information.
It contains some quick-spotting guides that help with instant recognition of the 40 most common garden birds. Instead of illustrations, there are actual photographs of the birds close-up and in situ. This makes it simple to recognise them in a heartbeat.
The book is pocket-sized if your pockets are generously-sized that is. It measures around 19x13cm. It is paperback, making it lightweight enough to carry on any woodland walks.
The pages are stuffed with information and facts about birds, their behaviour, how to attract them, and feeding advice. There is also a clear guide on how to make a bird box and where to position it in your garden to make it most inviting.
Some pages discuss seasonal changes, birds that become more prevalent or those that migrate, in the hunt for a warmer climate throughout the winter.
My favourite section is the size comparison chart; it makes telling one species apart from another so much simpler.
This is a great bird watching logbook for families to share. Children are fascinated and excited when they successfully manage to spot a bird that they recognise and pairing it up with its image in the book.
You can use the handbook in conjunction with the RSPB Big Garden Birdwatch event, or as a stand-alone guide.
Final thoughts…
All you need is a pen and possibly a pair of binoculars to enable you to keep an up-to-date journal of the bird activity in your garden.
Of course, you can write it all down in a note pad. Instead, try jotting it down in the best bird watching logbook, that way you will have a permanent record along with pages full of bird facts to make a wonderful catalogue for future reference and comparison.