I once had the pleasure of sitting in a friend's garden watching him call home his racing pigeons after their long flight home.
It made me wonder; were they returning to their pens purely out of instinct or did they recognise my friend?
He was shaking his tin of corn and making a weird cooing noise, interspersed with the occasional 'come on beauty'.  Was the noise familiar to them or do birds recognise and remember humans?
You might be surprised to learn that they do. Scientific tests have been carried out on pigeons, jackdaws, and crows to prove they have long-lasting facial recognition skills.
A quick internet search highlights countless stories where people talk of 'their' bird, the same little fella that returns daily to be fed or for a chatter.
I even have Christopher, my friendly robin that regularly returns and sits on my hand. I am convinced he knows my face and remembers my voice, scientifically proven or not.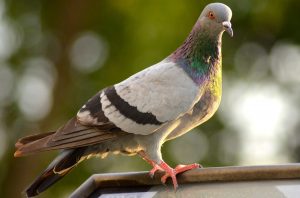 Pigeons Know Your Face
There is a park in Paris where pigeons love to gather. Two researchers of similar build, hair and skin tone met, armed with bird food. They wore different coloured lab coats.
Both fed the pigeons and they happily devoured it. The first researcher, A, sat back and left them to it. The second shooed the birds away when the food was finished.
They waited a while a fed them again. This time, neither researcher shooed the birds away, however, the pigeons gravitated toward the 'nice guy, A.
This happened consistently at multiple attempts until they swapped lab coats.
The clever pigeons still went to researcher A.
This proved that the birds weren't fooled by a simple outfit change, instead they recognised facial features.
Never Cross a Crow
Crows are renowned for having long memories and holding grudges, as you will know if one has ever dive-bombed towards you.
If you should ever have a bad experience with a crow, it could lead to years of revenge, not just from him, but also from 'gang'.
Upset a crow and he will memorise your face, and scold you from a distance. This screeching noise is a warning to you and a battle-cry to other birds from his community. They will commit your face to memory and you could face retribution from any one of the gang for up to 5 years!
Tests have proved that crows can recognise and define between familiar and unfamiliar faces by using facial photographs and masks. Further proving that birds recognise features and not clothing.
Other birds
Magpies recognise people who have interfered with their nests, even safely for research purposes. They will scream at and flap to warn humans away at their next sighting.
Hand-reared jackdaws will follow their human's eyes to guide them from their resting place to their food source.
Finally
Little testing has been completed about common garden birds and their ability to recognise and remember humans.
I choose to believe that many of my year-upon-year returning visitors do so to check on me, and not my healthy stash of eating and resting places!