If you are a person who loves feeding and watching the birds, then it can feel wonderful to find a really good bird food that sees an influx of additional birds visiting your garden.
In this article I am reviewing the Peanut Butter For Birds from the Flower Power range by Richard Jackson.
Although many people give birds peanut butter for humans, it can be bad for them in large quantities because no garden bird would naturally eat that much salt.
The peanut butter designed especially for birds is a much better alternative. Note that bird peanut butter is not fit for human consumption!
The Review
I got the Richard Jackson Peanut Butter for Birds with the branded Flower Power Richard Jackson Peanut Butter Feeder.
At first glance it is easy to see that the food and the feeder are both premium products.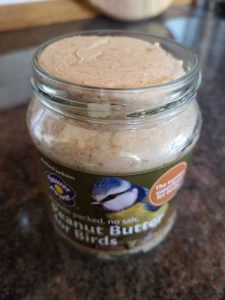 The feeder is very well made, sturdy and cleverly designed.
It comes with a chain to hang it from a tree or even your bird feeding station and also a bracket so you can mount it to the wall of your home or shed or outbuilding.
The feeder has a special threaded piece that you literally screw your jar of peanut butter onto.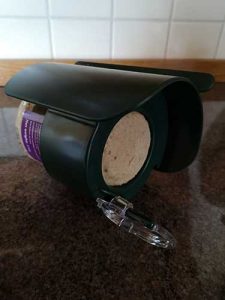 It is an amazing design feature as if you use the feeder with the jar of peanut butter, all you have to do is take the lid off and place the jar inside the feeder!
This way there is no mess and the food is protected by the feeders design from getting wet if it rains.
You can use the food without the additional feeder if you want, you can place the jar out on your bird table with the lid off on its side, or you can smear it onto your feeding table.
Why buy this food?
The main reason to buy this food is that the birds absolutely love it!
Within about 10 minutes of putting it out, the birds were all over it – pretty much ignoring their usual selection of tasty treats.
The food is premium quality. We as humans are obsessed with eating well and putting the right things inside us, why should we treat our pets or garden visitors any differently?
It attracts a wide variety of birds. I have seen Robins, Sparrows, Nuthatches, Bullfinches, Long Tailed Tits, Great Tits and Blue Tits flock to it within the first few hours it was out.
The food is great for young fledglings as well as adult birds because of its consistency.
How long does it last?
Many people may be put off the price of the peanut butter for birds, but for what it costs (Around £3.50-£4 a jar) it is actually very good value for money.
The first jar I put up lasted approximately 4 weeks, so just under £1 a week for pretty much constant bird action at the feeder – a small price to pay.
When you consider you could spend around £2 on some cheaper food from a discount shop, this does not tend to last as long. Cheaper foods are full of feed to bulk it out that birds do not eat (this is what gets discarded onto the ground)
Bird food is a bit of a false economy – the cheaper it is, usually the quicker it goes and a large proportion of it ends up on the ground and this is what can attract mice and rats.
It is also likely that cheaper food will cause germination.
With premium food such as this, none of it is wasted and it does actually last longer.
Final thoughts…
If you are looking for a high quality feed for birds that attracts a large variety of birds to your feeding area, then you should really give this a go!
It is really worth experimenting too, to realise that cheap bird food goes much faster and causes a large amount of mess.
This peanut butter food is definitely one of the least messy foods you can get. Plus you can recycle every piece of the packaging.
You can buy the peanut butter for birds from Richard Jacksons Garden here.
You can also get the feeder for the peanut butter from here.