Making Fat Balls is a lot easier than you would think! It makes a great weekend family project and the result is seeing the marvellous birds flock to your home made feast.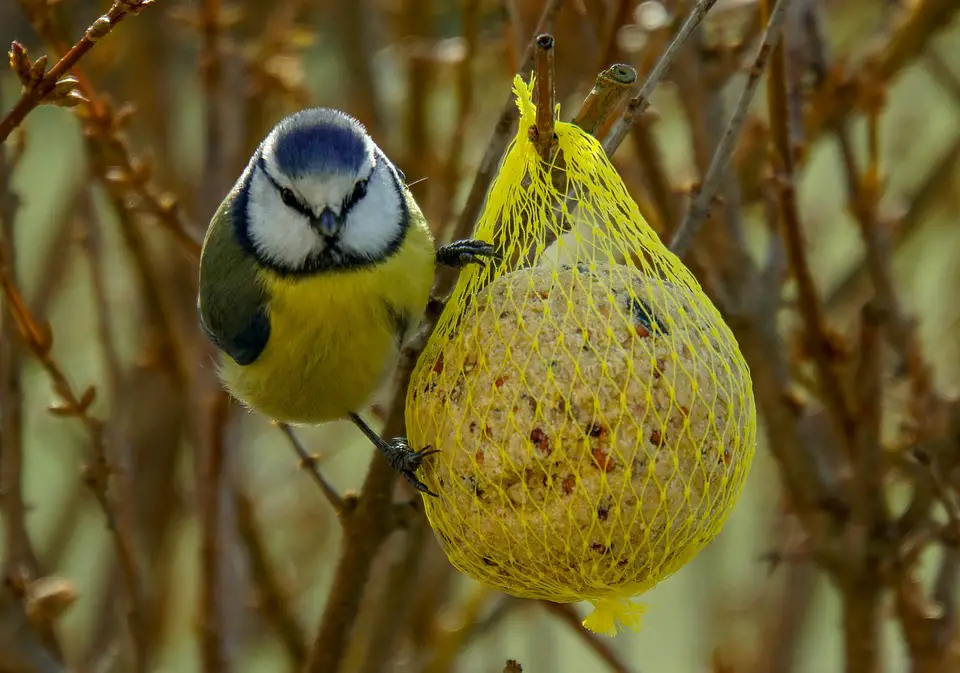 Click here to jump straight down to the recipe.
I have spent many happy hours sat in my garden, usually early in the morning, coffee in hand, enjoying the peace, contentedly watching the numerous birds flying to the various feeders and boxes.
I remember the feeling of delight when a family of blue tits decided to make the bird box my son had made several years before in woodwork class, their home.
Something so serene about watching these tiny creatures expertly navigating the tiny entrance hole, to the bird feeder and back with the goodies, in just a few seconds.
I think that was when I decided to have a go at making them some fresh food with mostly leftover scraps from the kitchen.
Here's how..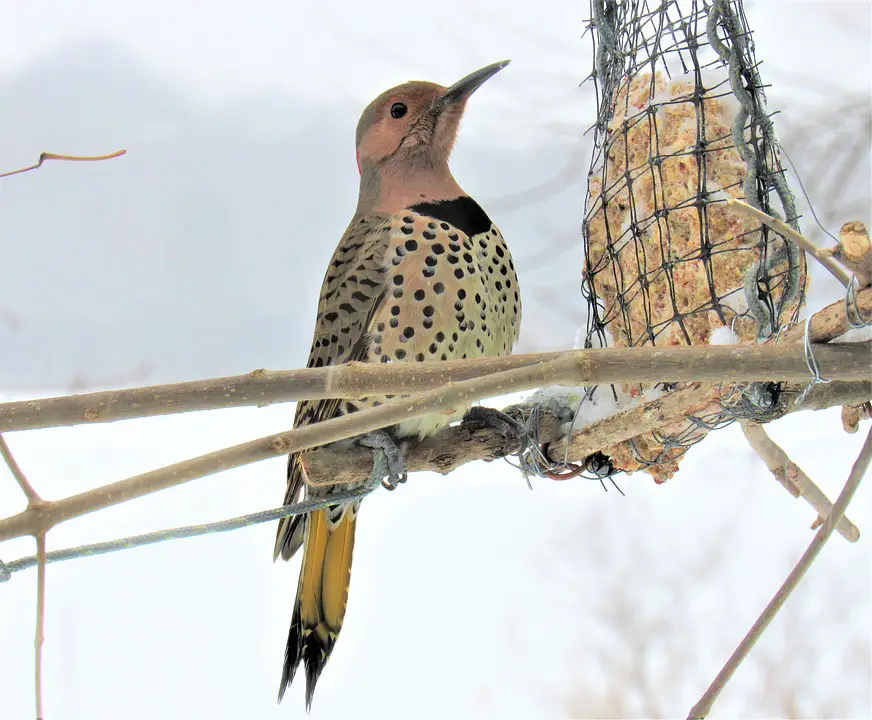 Perfecting the Process
My first couple of attempts weren't great, mixture too sloppy to mould and set, then the lard I had used to bind them melted far too quickly in the Summer sun. You must be aware of this happening as if it were to get on their wings it might hinder their flight.
Finally  I hit on the ideal recipe and realised that even if they didn't look perfect, as long as they were tasty,  the customers were hardly likely to complain!
I found a much better finish using beef suet that my local butcher gave me free of charge, it held it shape well. The birds seemed to enjoy it more too.
I put finely chopped apple in one batch, they were most unimpressed! The birds ate around it and left it to rot.
Be prepared
Get everything together, once you start you don't want to have to go rummaging for a ball of string when your fingers are very sticky and messy! And I mean very..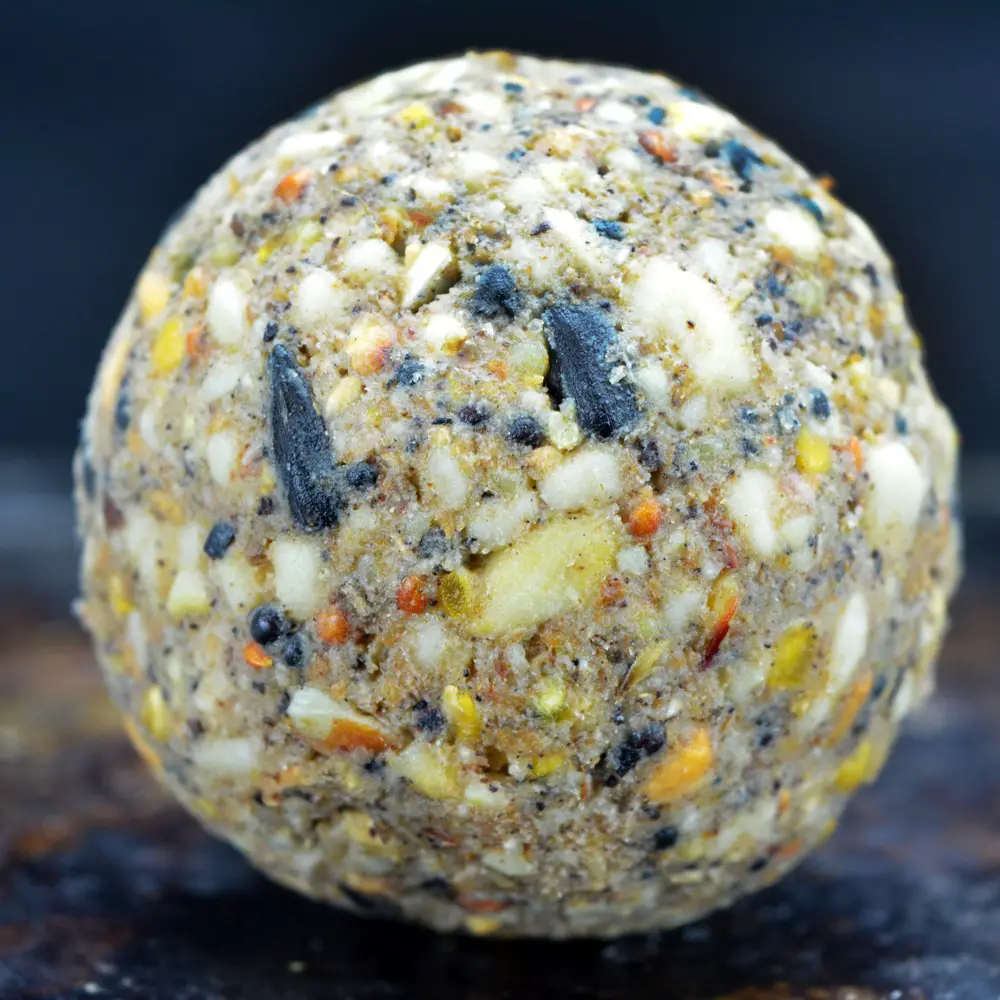 What you will need :
A large mixing bowl
String, tied into loops and knotted
Scissors
Saucepan
Foil lined tray
Suet
Porridge oats
And then you can choose from this list of ingredients,
Bird seed, peanuts (I blitz mine to a crumbly powder, makes a nicer mixture and helps bind), meal worms, sunflower hearts, a few cake crumbs, sultanas, currants, a little grated cheese, a few wholemeal breadcrumbs.
Step by Step Process:
Firstly, in the saucepan melt the suet on a very low heat, don't be alarmed at any lumps that might rise to the top, it's just waste products and can be spooned out and thrown away.
Put this to one side to cool and take the mixing bowl.
Put in whichever of the dry ingredients you have chosen, keeping the porridge oats to one side, and mix them with your hand.
Quantities aren't important, once you have made your first batch then you'll find it easier to judge each time.
Then slowly introduce the dry mixture a handful at a time, to the cooled  melted suet, stirring with the spoon.
You'll quickly reach a good consistency that will still be a little sloppy, this is where the oats come in. They are a perfect binding agent. Add a few at a time until the mixture feels malleable enough to mould.
Let's get messy!!!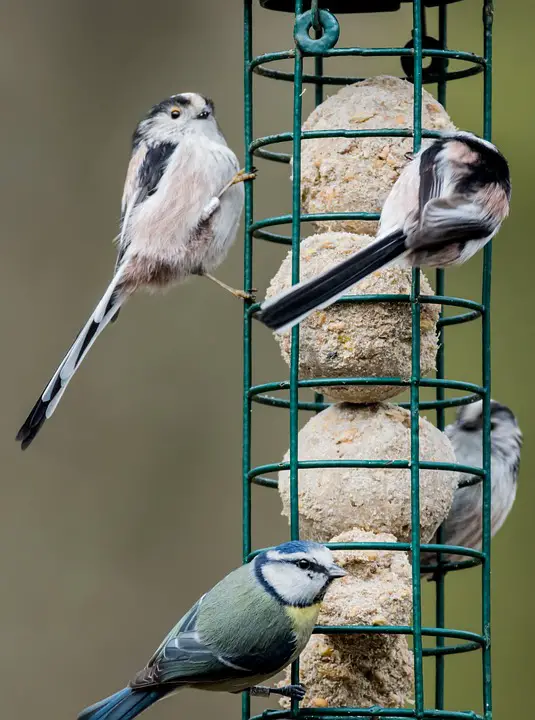 The fun part – Forming the Fat Balls!
Scoop a handful of the mixture and wrap it around the knot of the string you have made, leaving the loop visible.  Squeeze it until it feels firm enough to hold its shape and mould it into a ball.
Place it onto the tray and repeat with the remaining mixture. Put the tray in the fridge overnight and let them set.
Simple!
Keep 'em cool
Don't be tempted to hang one from every branch, particularly in the hot months, if they melt they could become detrimental to the bird's health.
Just hang one or two and keep the rest in a tub in the fridge. They are perfectly safe to freeze if you make a large batch, just remember to defrost them at room temperature for a few hours before you hang them out.
Happy, Happy Birds
Your deluxe, Cordon Bleu fat balls are now ready to go. Hang them from your bird feeder or a branch and sit back with a drink and watch your garden become the new local bird hangout!
Happy making!