Coal tits are regular visitors to my bird tables but, each trip is so fleeting it is sometimes difficult to tell what they are eating.
If you're a regular reader of mine, you know that my feeders are always well stocked with various treats. It seems as though the smallest member of the tit family can't possibly have time to eat; their stay rarely lasts more than a second or two.
I need to find out exactly what coal tits eat
 to see if I can encourage them to stay awhile.
Coal tits are omnivores; they eat spiders, insects, and seeds. They are well-adapted to dining in gardens from hanging feeders but don't often eat at the bird tables. Instead, they take their food to a hidden cache, somewhere safe to store it away for later.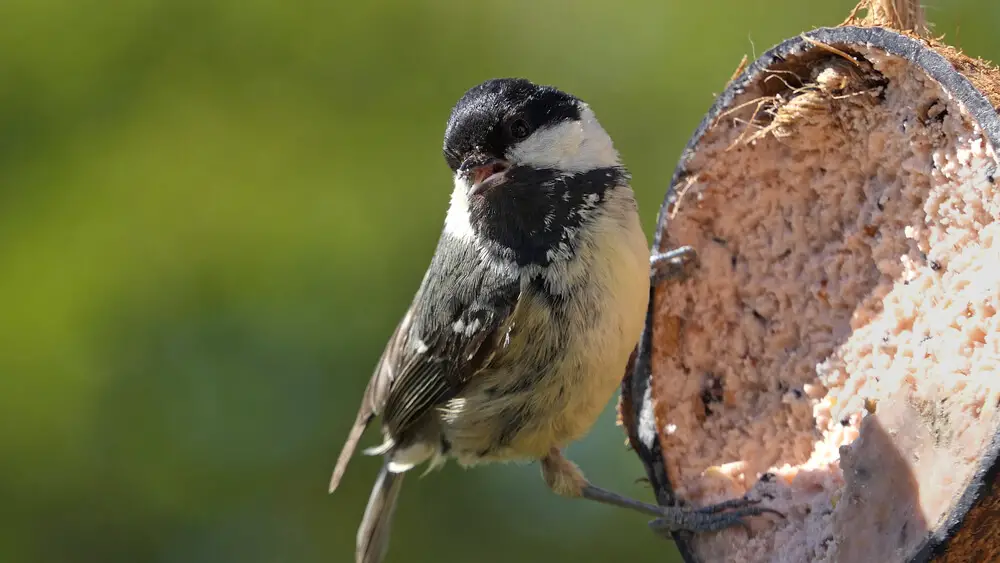 What do coal tits eat in the wild
Coal tits live year-round in dense woodland, especially where there are numerous conifers. They are a great source for the tits preferred food; insects and spiders.
Coal tits have tiny, narrow beaks for seeking out food on the outer leaves of conifers. They are rife with caterpillars, aphids, spider mites, and bark beetles.
The birds are also very fond of beech mast – the edible nuts of the beech tree. It is common to see small flocks of tits feasting on the treat when they have fallen from the tree.
If a hungry coal tit can't find any conifers in their vicinity, they happily dine at alders and birches; they pick out the seeds from fir and larch cones.
What do coal tits eat in the garden?
Coal tits are frequent garden visitors, although we sometimes mistake them for other members of their family; the willow or marsh tit. They do look very similar, small birds that weigh around the same as a 50p coin. The white patch at the back of the coal tit's head helps set them apart from their cousins; they have plain black caps.
Although not as colourful as the blue tit, the coal tit is every bit as acrobatic; they get into weird and wonderful positions to extract their favourite snack from the feeders.
Their first choice is always sunflower seeds. Regular readers know I prefer to feed sunflower hearts as they create far less mess while remaining equally nutritional.
They also enjoy suet, in pellet, block, ball form, and peanuts – crushed as my preference as they are far more manageable for their tiny beaks.
Try to have a dish of fresh drinking water available even in winter, coal tits need somewhere to rehydrate.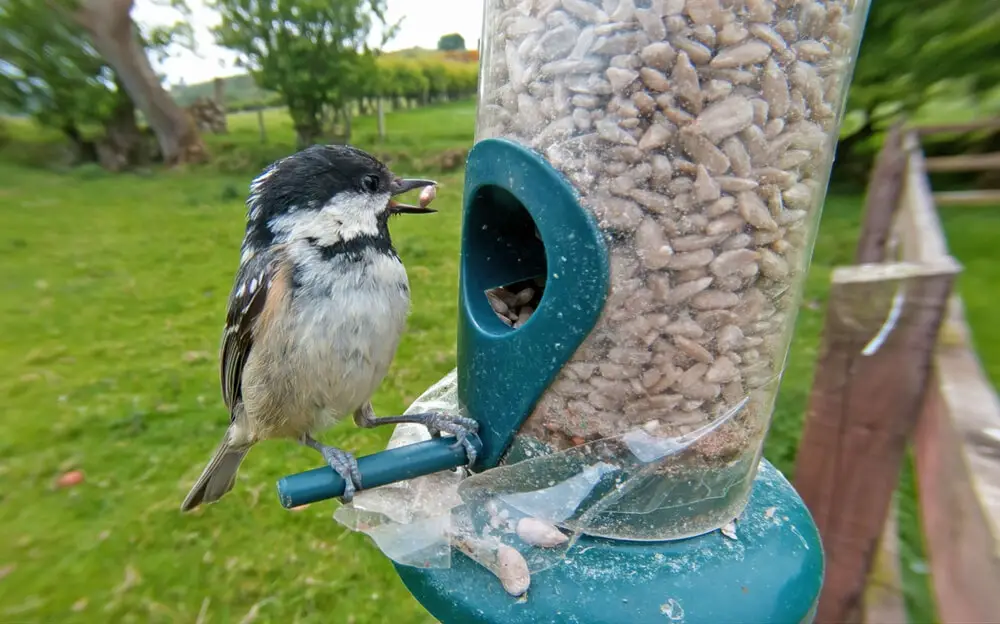 Do coal tits eat at feeding tables?
It's funny to watch a coal tit at garden feeders; they dart back and forth, staying just long enough to grab a single seed.
Their beaks are only big enough to manage one at a time, so they fly to the nearest shrub or bush to either eat it or stash it.
Coal tits are the only member of the tit family to behave this way. They hide each seed in a different place to go back to later. It is known as scatter-hoarding and is probably one reason why the coal tit population is so healthy in Britain, and they aren't endangered.
Final thoughts
Now that you know what coal tits eat, an unending supply of sunflower hearts should be enough to attract them. According to the Great Garden BirdWatch, they are regular visitors to at least 58% of gardens.
If you're still struggling to see any, wait for winter when they gather in small flocks with other members of the tit family on the hunt for food.
Finally, be sure to see my review of this bird food – it has been great at attracting Coal Tits to my garden!